To start anything from scratch is indeed a big challenge. Whether you are a small business owner, an established business, or doing jobs anywhere you face difficulties to learn. Getting success overnight is not practical- consistent efforts and true determination in your work will surely bring out the best- is the key.
Many of you know might have heard of "Affiliate marketing"– a platform for thousands of self-supporting entrepreneurs, creators, and online publications who are doing fantastically by using affiliate marketing. Yes, even if you are a beginner, you too have the potential to go ahead to start with your business/job to taste success in the world of affiliate marketing.
Starting affiliate marketing as a beginner is neither too difficult nor too easy. You should have patience, persistence, and a thirst to gain knowledge. Keep one thing in mind, it's- Never Give Up.
So, the very first question arises in front of us, what is affiliate marketing?
It's an arrangement done online for the retailers to pay their commission to an external website or third-party publishers to generate traffic or leads to the company's goods and services. If you have ever seen a social media influencer promote a product, you will come to know they are affiliate marketers.
Affiliate marketing doers can make an income of more than five figures per month. When you select to be a marketer of it, you will be given a link that allows the companies to track every customer you divert their way. Here is the way to earn a commission because the customer buys any products through that given link of yours.
Throwing an idea on- How affiliate marketing works?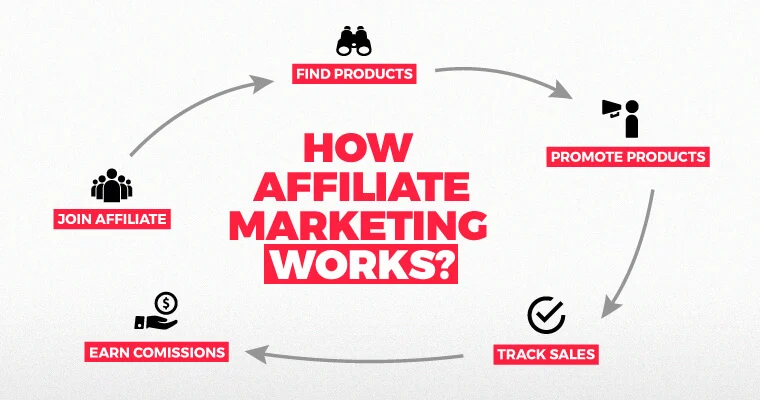 Share an affiliate link on your website, in a social media post, or on a blog.
The customer clicks on that link of yours.
Redirection is given to the customer for the website of an advertiser.
The customer gets tracked by you through a cookie.
The customer does a purchase.
An affiliate network accredits the purchase to you and issues you a commission.
Commission comes in your affiliate dashboard.
Finally, you are paid by the affiliate network.
Remember, you should always have a unique ID or link to use on your website to promote the company's products or services. If you are a beginner and going to start affiliate marketing, start today, and gradually you will be in a prime position to take benefit from that. You just need to follow some steps which we'll be discussing below-
You need to:
1. Choose the niche: "Choosing a niche is a strategic business decision to serve a specific customer base. It's helpful to establish a loyal audience that will buy your products instead of competitors". — Elise Dopson. So true.
If you are clear-cut about your niches, it becomes your specialty, and the topic to make you popular all around.
There are some top marketing niches-
Fashion Designing
Wellness and lifestyle
Finance Marketing
Technology
2. Find an affiliate marketing program: It is recommended to find the program that is right for you because a lot of affiliate marketing programs out there. To find the affiliate offers and products always attracting your jza0udience.
With the right affiliate marketing program, you can run a successful affiliate business. To find good affiliate opportunities, ask your favorite brands for ambassador or affiliate programs.
3. Decide your platform: What platform are you going to choose is again considered important to the marketer. Using the right blogging platform is always a fruitful approach.
For instance, if you are on a self-hosted website (WordPress.org), you can add any affiliate link and competently manage your campaigns.
4. Create precious content: Reports have shown in the past 2 years, people spent an average of 200 mins online, worldwide. Blogs are alone the fastest way to do that. It has proven to generate traffic.
There are plenty of affiliate marketers operating entirely on social media, the easiest way to get your content into the hands of the people that might be interested.
YouTube for vlogs, Pinterest, and SEO-Search Engine Optimization are the other platforms having strong affiliate opportunities. Doing some keyword research and implementing SEO is crucial to reaching out to the audience. E-mail marketing is another way to keep those customers who have visited your site interesting.
5. Build an audience: Build an audience all you need to do is to reach your audience. You can send them newsletters, updates on new content, and exciting offers who sign up to be a part of your e-mail list.
Deez advises— "Just write on things that will create value for your audience and help them to stay connected and make a better and informed decision on the choices they have". Try to win the trust of the audience than make quick money.
If you are thinking of how much money can be made with affiliate marketing, it depends on you- how much traffic you can generate, and how well you calculate which affiliate services/products the audience will give a response to. It is really a good source of earning passive income.
For an entrepreneur, it is important to do affiliate marketing, even if you have a website, ads, or social media platform set up in a proper manner, you still need a company to partner with. That's where the affiliate programs work to bridge the gap.
We are going to discuss everything that is needed to know about affiliate marketing programs and what beginners get the best from affiliate marketing programs.
First, let's understand what affiliate programs are- also called affiliate networks- Affiliate programs provide a third-party platform that allows merchants and affiliates to find and work all together. They sign up for the platform, find each other, and finally, start working together.
Affiliate programs help to track-
How many people see a banner ad
How many people finish completing a buy
How many clicks on the ad link
Earnings generated by an affiliate for multiple merchants and offers.
There are some best affiliate programs that work for beginners-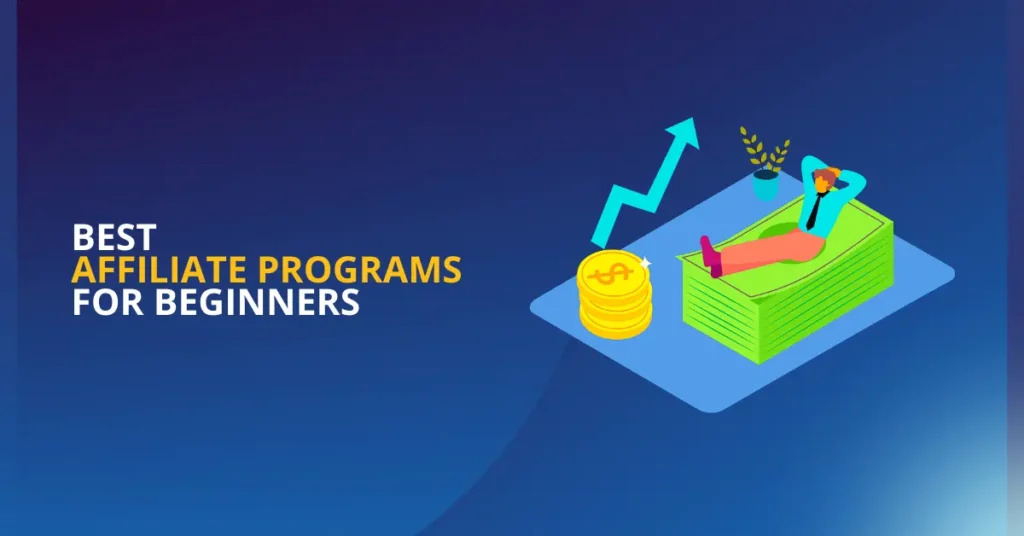 Let's cover some key points to understand.
1. Amazon Associates-
It is one of the best and first online affiliate marketing programs.
It helps online marketers to make money by advertising to many customers who shop on Amazon.
The amazon associates program helps content creators, publishers, and bloggers monetize their traffic.
To start with amazon affiliates, just click the sign-up button on the Amazon Associates Page.
Pros-
It's easier to sell as people trust amazon.
It's easy to customize for ads and links.
Sign-up is free.
Cons-
Cookies last for 24 hrs.
Commissions are low.
Doesn't work with PayPal.
2. eBay Affiliate-
It provides one of the highest-paying affiliate programs on the internet.
eBay affiliate gives the tools to promote its products with no worries.
eBay is unlike other affiliate marketing programs- you will be working directly with eBay and its products.
Don't need to work with eBay all time, you can work with other merchants and programs for additional income.
With an easier application process, you can apply to join.
Pros-
Commissions are high.
Works with Paypal very fast.
Huge range to choose products limitlessly.
Purchase time is shortened with the buy it now button.
Cons-
Auctions are there which customers don't like sometimes- prefer to buy fresh ones.
You don't get paid for longer auctions.
Sometimes customers get away due to its confusing selling plan.
3. Commission Junction-
A 20-year-old marketing program, in service helping many affiliates and merchants since then.
All earnings are based on EPC- Earnings per one hundred clicks.
Here mostly bloggers or social media-based affiliates prefer to use CJ to drive traffic to be successful on this platform.
CJ provides a wide list of niches to consider to start the affiliate marketing program.
Pros-
CJ comes with a solid reputation as it has been in the market for many years.
Thousands of famous merchants using.
Works amazingly for bloggers and social media marketers.
Cons-
Difficult for beginners. Success depends on the status of your application and credentials.
Payment terms can be confusing.
Sometimes doesn't stand best for advertising.
4. ClickBank-
ClickBank is one of the top companies that attract all kinds of marketers.
ClickBank affiliate information is all open to anyone and makes it a precious platform for your success.
The best thing is that it has an outstanding option to get started even if you don't have a skill.
Top product categories offered on ClickBank- E-business, health and fitness, Travel, sports, home, and garden.
Pros-
ClickBank never misses the paments.
Offers the highest commission in the industry.
It ranks products by top conversions so you know how they are in performance.
ClickBank spark platform trains new and existing affiliates with in-depth online marketing training.
Cons-
ClickBank sellers and affiliates are subject to ClickBank fees.
Product sellers and affiliates can't communicate directly.
Affiliates who get failed to make any sales over a month are charged $1 per day up to $50 for having a sleeping account.
5. GiddyUp-
GiddyUp is perfect for beginners, it provides an affiliate manager and useful tools to help you with different aspects of its program.
It is a platform that monitors your performance which helps you to identify the opportunities for improvement and earn more.
To analyze your performance, GiddyUp provides a creative library to help your digital marketing campaigns, tracking, and real-time data.
GiddyUp's affiliates will gain you exclusive access to e-commerce businesses.
Pros-
It allows partnering you with the world's top publisher, influencer, and marketing agencies to drive sales across every online channel.
Prices are shown in local currency.
Competitive international rates.
Funnels and Creatives are natively translated.
Cons-
When business is at a slow speed, it's challenging to find work.
So your journey into affiliate marketing programs starts once you pick an affiliate marketing program. Learn day by day and rise.
Talking about Dos and Don'ts of affiliate marketing-
To make money online sounds nice but we all know the reality nothing is easy to get. Whenever starting up new things Dos and Don'ts are never to be forgotten. Here we'll also cover some points related to what should and should not do to be fortunate with affiliate marketing.
Here we go: –
Dos-
Always try to promote the products/services that you have a thorough knowledge and expertise with. Your expertise in the field will attract visitors to purchase a product.
It is advisable to choose the right campaigns, it works efficiently to generate income from the visitors.
When you bring sales or a lot of leads to the advertisers, do not hesitate to negotiate with advertisers to increase the percentage of your commission.
Be patient, sales are not going to happen instantly. It could take months of recurring testing and promotion to get the benefits.
Place the links in relevant locations to get credit for a customer referral.
Don'ts-
No need to be sales because no one wants to visit the site that continuously tries to sell them products/services.
It is a requirement to agree with the terms and conditions of the affiliate marketing service document. Don't violate the terms and conditions of the services. Once you violate, you will be banned.
On websites, a lot of advertisements on a page, and the visitors find it irritating the overloaded page. Avoid promoting dozens of products on one page.
Do not provide incorrect information. For instance- a particular service is promoted as free now once the visitors click on it, it asks to pay for that. It might bring bad consequences.
I hope these tips are fair enough to make you clear on what to do and what not to do in the way of affiliate marketing. You just need to put more effort into research from our end, you will be rewarded with great benefits.
I wish you good luck!