Your mind must go tossing up and down, What makes developing sites so easy? How come launch an online business with a complete online presence within a day, two, or three?
It is WordPress Page Builders, give a suitable answer to the inquirer! Now before diving into the topic let's understand, What are WordPress Page Builders?
In simple words-
"WordPress page builders are particularly designed to aid users to develop WordPress pages through a handy, visual process".
Are you the one who has a keen interest about to know the making of websites?
Then, the answer lies in WordPress Page Builder. It gives you the tools to create web pages stylishly. Moreover, enables you to construct a site that will reflect your identity.
A dilemma always comes about choosing the best WordPress Page Builder Plugins.
To make you certain, I went specifically with eight different WordPress Page Builder Plugins. Before getting started, let me make you clear about the important features you need to spectate in a WordPress Page Builder Plugin.
So here are the features we'll discuss for each WordPress page builder—
Interface: It should be uncomplicated and instinctive.
Widgets/Templates: It should have the necessary widgets to add extra design functionality. Should be provided templates ready to use.
Styling Option: The elements are to be styled on your page.
Notable Features: Page builder offers any notable features.
Performance: Checking the performance to build quick-loading sites.
In this post, I will try to bring the Best WordPress Page Builders in front of you.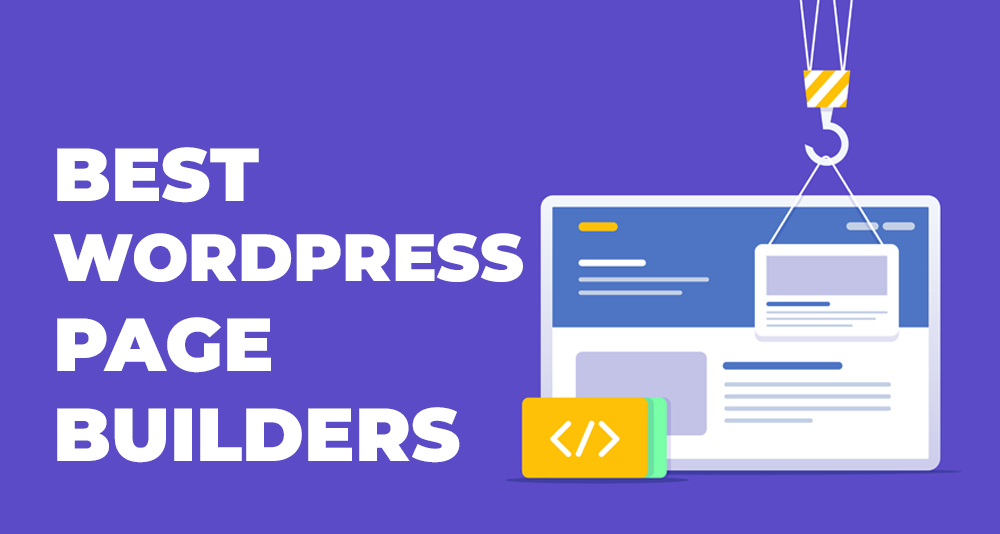 1. Elementor: Elementor is authentic and affordable. No doubt, it has ranked no.1 WordPress page builder, the reason being, that it is available with a free version. Creating websites with elementor pro has an easy interface. It comes with a drag-and-drop interface which makes it streamlines the design.
Elementor Pro version comes up with a good number of useful design features. Like it provides 300+ pro templates, 80+ widgets, and blocks, theme builder, pop-up builder, integration with tools, etc. Elementor provides three styling tabs in the left-hand sidebar—Content, Style, and Advance. It provides the deepest sets of styling options of any page builder.
Features are available in Elementor Pro-
Pop up a building.
Form integrations.
Full theme building.
Global widgets.
WooCommerce builders.
There are two more important features applicable to both the Free and Pro versions: Third-party extensions and Landing pages. If you are building a new site, I would suggest you enable the features from the beginning.
Price: Elementor Pro starts at $49 yearly. The expert plans will cost $199 and the studio plan costs $499 yearly. All plans come with a seven days money-back guarantee.
2. Beaver Builder: Beaver builder pops out when it comes to the flexible page builder. It has been in the market for quite some time now. It works in real-time on the front-end and with a unique interface for its front-end visual editor. Front-end editing means- What you see is what you get.
The best part of Beaver builder is it recently added inline text editing which means you can type directly to edit your text on the page. Beaver Builder gives you access to 9 modules for a free version, on the other hand, for Premium version gives you access to 30 modules.
You also get access to 56 Page templates for the Premium version, divided into two categories- Content pages and Landing pages. For Beaver builder templates are surely not considered a strong point. You can save your designs as templates to reuse them later. A new plugin has been started by Beaver builder-Assistant Pro, you can save your templates to the cloud and easily reuse them on different sites.
Styling options depend on the module, you either use the default POPup window or pin the window to the side to create a sidebar. Beaver builder features come with Beaver theme, Beaver builder theme, White labeling, and Third-party extensions. Pretty good. Performance-wise Beaver builder is one of the best. Because of its more lightweight page builders.
Price: It has a limited free version on WordPress. The premium version starts at $99 for unlimited site use.
3. Divi Builder: Divi builder has been a prominent WordPress page builder from Elegant Themes- a developer of amazing themes and plugins. Divi builder 4.0 supports theme building. With the theme of Divi builder, you can design- a header, footer, templates, etc. Earlier Divi builder performed unpleasantly. However, since the release of Divi 4.10, its performance has improvised.
The frontend visual interface is mostly used, which is surely distinctive. It gives you several ways to work on your design. I will give it 5/5 ratings. Divi builder gives you access to 46 modules to build your designs. You get access to 1796 pre-built templates spread across 244 different layout packs and the ability to save the designs as templates.
Talking about its Styling option, Divi is similar to Beaver. Builder, allows you to style elements from a popup. You can also add custom CSS to the main element before/after. Divi builder features come with Theme building, Divi theme, User access controls, and WordPress customizer controls. Earlier it had very low performance. Since the release of two performance-focused updates in 2021 by Elegant themes, it attained performance.
Price: Divi Builder costs $89 for unlimited website usage.
4.SeedProd: SeedProd is a new WordPress page builder plugin. It has around 1 million users worldwide, well-known. It is lightweight, making designing websites and landing pages easy. The interface of the plugin is amazing. Unless you are using the templates, the black canvas is ready to mold to your imagination using the elements provided in the sidebar. Your website starts building up by simply dragging and dropping the elements.  We can use different landing page templates on the SeedProd plugin. Different types of templates are chosen like webinar, login, sales, option, thankyou pages, etc.
It is built with plenty of features-
You can create a custom WordPress theme without hiring a developer. Undo, redo, save, and reuse templates. You can create complete e-commerce sites with Woocommerce template tags. Overall, performance is up to a benchmark. Seedpod is highly compatible and results in high-speed websites.
Price: The basic plan costs $79 yearly.
5. Thrive Architect: It was once a Thrive Content Builder which is now refurbished to Thrive architect. It is a reliable WordPress page builder. The interface of Thrive architect is quite similar to the interface of the elementor. Due to its center of attraction on landing pages and conversion rate, it is very popular among bloggers and affiliate marketers. The amazing thing about Thrive Architect is, that its default styling appears eye-catching and can be used to design content within your existing theme.
One of the best features is the option to set up page events. These will give a display of a lightbox popup based on certain triggers. Another best feature is how precisely it integrates with other Thrive theme products. If we talk about the performance of Thrive architect when it comes to page builder performance it is really good. Overall, you should be able to build quick-loading sites with Thrive Architect.
Price: It costs $299 per year or $99 per quarter.
6. Brizy: For non-techies, Brizy is an easy-to-use WordPress page builder. Brizy has launched a few years ago, in April 2018. Amazing websites can be created without writing a single line of code with Brizy. Brizy is a front-end visual page builder. The "distinctive interface" part is what happens when you start adding elements rather than having a sidebar or pop-up where you just customize or style the element, almost everything happens in line.
Brizy provides you with around 26 basic elements which are all useful. Moreover, it comes with around 150 blocks of templates you can use.
Talking about the styling option like other page builders, there is no set formula for styling options.A sidebar is expandable for advanced settings. Brizy provides a huge feature set. If given ratings for its performance I think it would be 4/5, you can build fast-loading designs with Brizy.
Price: It costs $49 yearly, for a freelance plan it costs $99 yearly.
7. Visual Composer: Visual composer is a complete website builder. To go beyond the page you can use this and also design your header and footer. Visual composer has a big collection of content elements.
When you go to create a new page with it, you can just choose from a few different layouts for your canvas. You can do a fully blank canvas including your Header/footer, etc. The interface is glitch-free and seamless.
Visual composer has a huge selection of elements and templates. Just need to connect to the visual composer and download those you want to use. It has a nice styling option. You get all the features like shape dividers, parallax, custom spacing, etc. The visual composer feature comes with plenty of templates and content elements that you can import. On our simple test site, it is the only page builder to get under 100KB.
Price: Its Pro-version costs $49 while limited to a free version.
8. WPBackery Page Builder: So here we are talking about our last but not least, WPBackery Page Builder. It was formerly known as Visual composer then after being separated from the company, page-building features remained as WPBackery Page Builder. It gives you both front-end and back-end editing.
The back-end is a separate builder, the front-end is more likable. WPBackery Page Builder offers  39 elements plus all the normal widgets. You also get 86 templates, all are full pages. Talking about its styling option, then it's quite limited. You will find good control over rows Like other page builders have third-party add-ons, it has a huge third-party add-on community. Its performance is quite OK.
Price: At just $56 you can start building your website with WPBackery Page Builder and can use it for a lifetime.
I have covered these relevant WordPress Page Builders for you, which one is the best to pick, I leave this to you.
Please share the Page Builder you like most, in the comment.
Are WordPress Page builders right for you?
These are made to develop a WordPress site easier and faster for those who are far away from how to bring the code or use HTML in use. If this is all about you, surely, you will want to use one of these. Of course, these are excellent tools for website owners, especially getting a high-end builder.
Another option for you- is the "Easy Page Builder"
Product And Funnel Details
With this, you don't have to worry about editing complicated HTML code and no longer have to worry about anything to do with website designs. It's not just the easiest user-friendly page builder, but it also packs a powerful punch when it comes to creating everything you need to sell and deliver your products online, including a complete sales funnel.
Fast Dynamic Editing System.
100% Mobile Ready Pages.
One-Click Backup System.
Easy Integration With Market Places.
Duplicate Pages In Seconds.
Step By Step Video Training.
Customize On The Fly.
Built To Be 100% Newbie Friendly.
Custom CSS and Scripts.
Again, you have a hitting question, Which is the best WordPress Page Builder?
Then I think it comes to our preference, starting your test with Elementor seems to be a good idea. For many people, Elementor has scored well enough for its features, ease of use, and design options. If you're looking for a value for money and feature-rich page builder- Elementor is the best among all.
Now you know which WordPress Page Builder to use to create beautiful landing pages or a website. You will come to know how to grow your website's traffic and conversion rate, that's for sure.