Are you looking to create a new website with no experience? It is elementor page builder which is a free WordPress page builder. This is the right blog for you to have a look into Elementor review along with its uses.
Many of us know WordPress is the most demanding Content Management System- it is free of cost, user-friendly, and wonderful for businesses starting their first website. It is so good to learn the basics of designing a web and using the native WordPress page builder to make attractive web pages.
If talking about a page builder– helps the developers to make designs, layouts, and functionalities modifications to build pages. To build and customize the page layouts in WordPress, use the WordPress page builder.
Consider a few points to adding a page builder to a website-
The page builder should be compatible with the current WordPress theme.
Webose the builder type- two types of building methods- one is drag-and-drop for an easy web design another type of builder is HTML builder to customize every detail of a website.
Ensure the builder you choose has the option for viewing the page in a mobile preview.
Table of contents
About Elementor
Elementor is the main and free WordPress page builder to create astounding WordPress websites. Elementor works wonderfully for almost every WordPress theme.
With 10M+ websites built with Elementor- 140K+ global community members- 330+ webinars, tutorials, courses, and a lot more. Elementor is one of the leading page builder plugins to create WordPress sites.
Read and learn using and installing Elementor "beginner's guide to Elementor."
Elementor review 2023-
WordPress page builders come up with many options such as –
Elementor page builder.
Beaver builder.
Divi builder.
Thrive Architect page builder.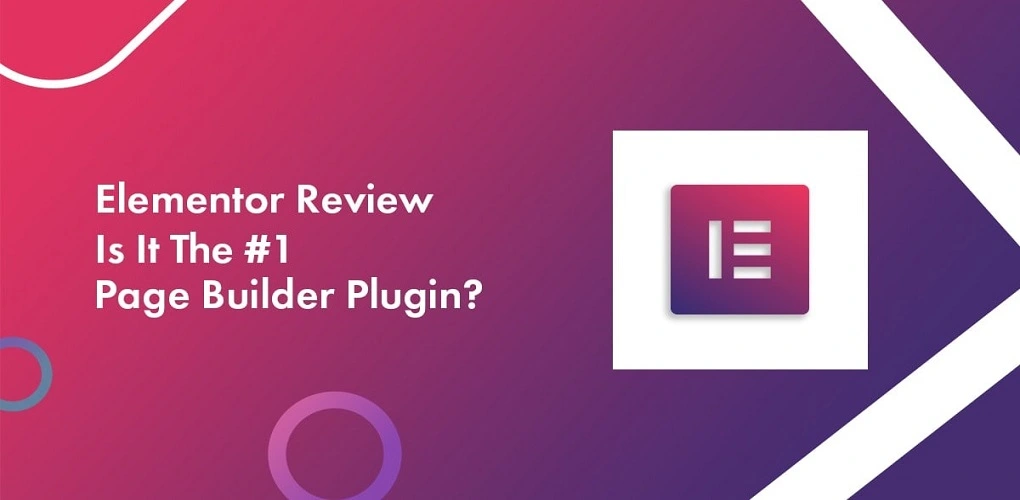 Why have only Elementor page builder over many options? Let's find out about the Elementor review!
Honestly, one of the reasons for the success of Elementor is it offers something to everyone-
If you are a casual user, you get complete control over the design of your website without any technical knowledge. You can use a drag-and-drop interface for everything, a visual, and a lot of templates to begin with.
If you are an agency or a freelancer, Elementor helps you to make a fast workflow and to provide better websites to the clients. The powerful content and theme builder help to create custom content sites and woo-commerce stores as required.
If you are a marketer, Elementor lets you include an exclusive feature to make separate landing pages. You will be available with features like a flexible popup builder and a widget. Without any developer, it gives the best way to create landing pages.
Well, these are not the only ones who get benefited from Elementor- Elementor is helpful for different types of users in many ways!
Despite its extra features, Tech people continue to review Elementor till 2023, they even understand the importance of Elementor Pro. Elementor Pro is probably the best page builder plugin for making websites on WordPress.
Are you looking for customization of your WordPress website, i.e from header to footer to landing pages? Elementor is the right fit for you. Elementor Pro version is recommended to offer you unlimited opportunities for the customization of your website.
If you are a starter, just try the free version- it offers sufficient widgets and elements to create a nice WordPress website.
How useful is the Elementor page builder?
Because of its extraordinary features, Elementor has gained popularity and has proven to be beneficial.
It is easy to work with Elementor, and one of the main reasons using it, 5+ million people use the Elementor plugin is because of its editor.
The user can easily design web pages with drag-and-drop accessibility. Moreover, it provides a live editing feature. It offers 'Elements' which can drag and drop into their editor to fulfill your customization need.
The big benefit of Elementor is, it gives access to over 150 responsive 'Premade Templates'.
So, if you do not want to build a page right from the starting can have the benefit of such templates-its more than 300.
These Premade Templates assist the website owner to have a professional view in a shorter time. The templates are divided into different industries such as business, etc just to get you the desired templates.
What is the main part of getting interacted with inside Elementor? It's Elementor Widgets or Elements- these are the building blocks of a page. You cannot even think about building pages without these elements.
If you discover Elementor you would get more than 40 widgets in just the free version.
Do you want 50+ widgets? Have Elementor Pro. With the help of wooCommerce widgets, you can build eCommerce valuable pages.
Elementor is the product of WordPress!!
How to install Elementor on a WordPress site?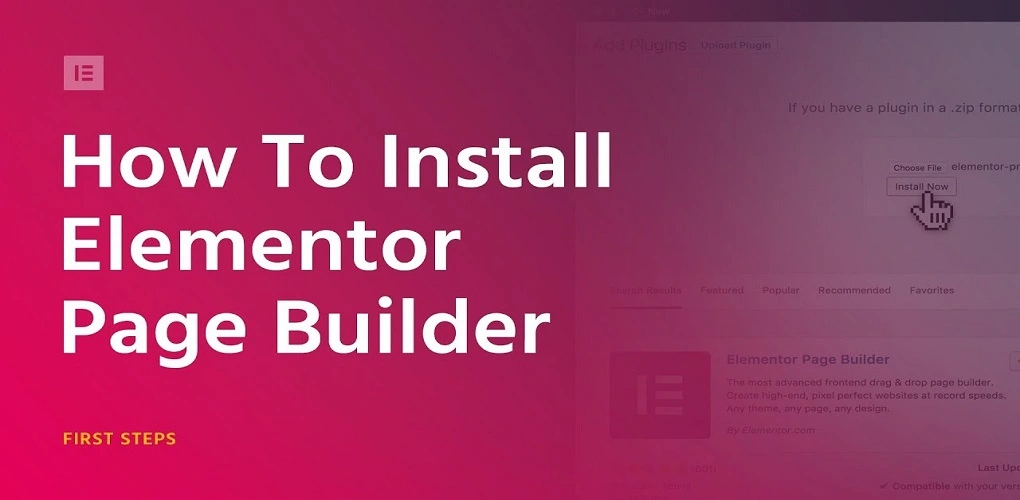 You can install Elementor page builder in two ways.
Installing Elementor via WordPress dashboard
Through elementor's website
Installing Elementor via WordPress Dashboard
First, you have to log in to your WordPress site dashboard and after successful login from the backend of a WordPress site you can install a free version of Elementor, now you have to follow a few steps of instructions to install elementor.
Step 1: – Go to the plugins option which will appear left panel of the WordPress dashboard and click 'Add New' button from the plugins tab
Step 2: In the search field, type Elementor.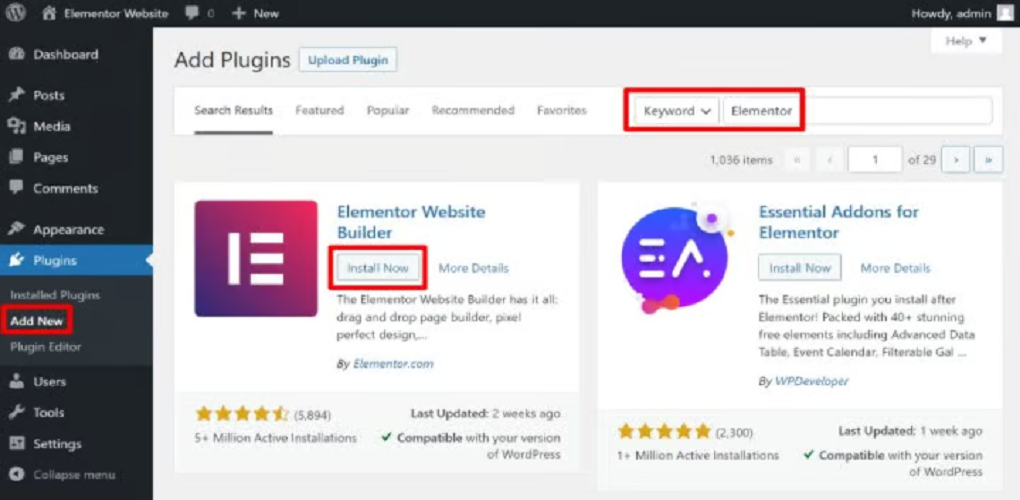 Step 3: Just click on the install now button and activate it after the installation process is finished.
Through Elementor's Website:
First, you have to visit the elementor website. and here you can download a free version of elementor. After downloading the zip file of elementor page builder you have to log in to your WordPress site and need to follow some steps as below.
Step 1 – Now go to the plugin section and click 'Add New' Button
Step 2– Upload the .ZIP file to your website via the "Upload Plugin" button at the top.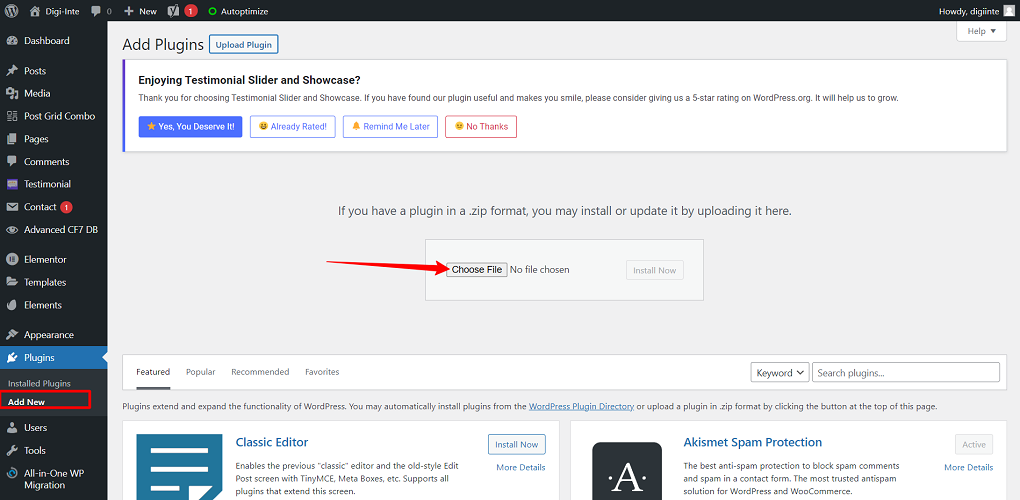 Step 3 – once the installation process is completed click to activate button
Once page builder is activated it will be displayed in the left sidebar of the WordPress dashboard. and now you can edit posts and pages with the help of elementor page builder. in the next section, we will know how to use elementor in WordPress and create pages.
For more detail, you can visit in below on bellow video.
The credit for the video goes to Mr. KEN
How to create the First page with the help of Elementor Page Builder?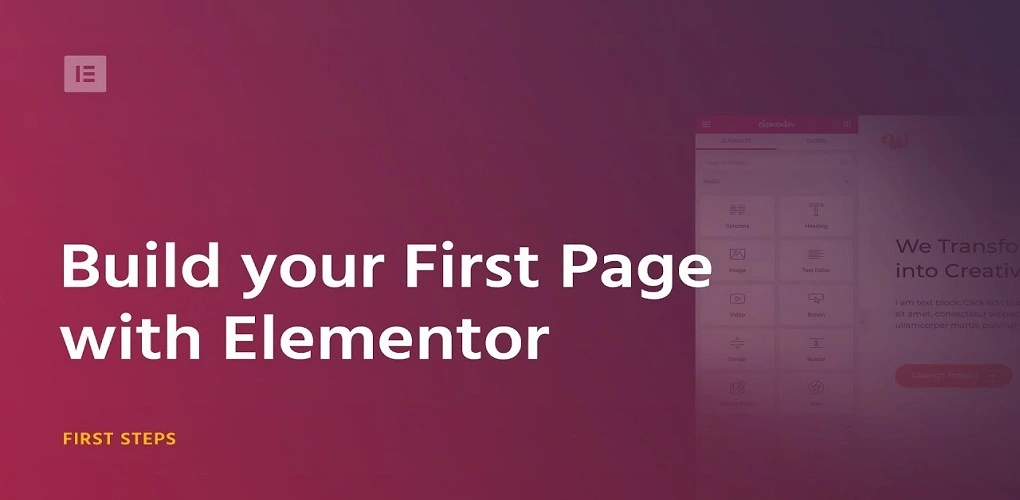 Elementor has drag-and-drop page builder options for WordPress. With the help of Elementor page builder, you can design unique websites without any coding skills. I will let you know how to create a post/page with help of elementor page builder.
Step 1. Login to WordPress Dashboard
Step 2- Go to your WordPress website dashboard & Click 'Add New' under Pages/posts
Step 3- Click "Edit with Elementor" to enter the page builder.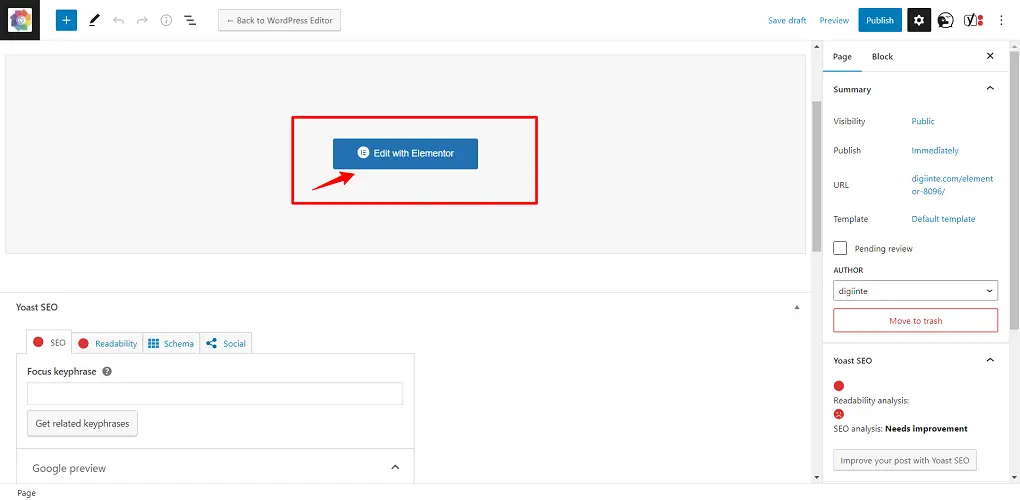 Step 4. Now the page/post will load and open in elemetor page builder like below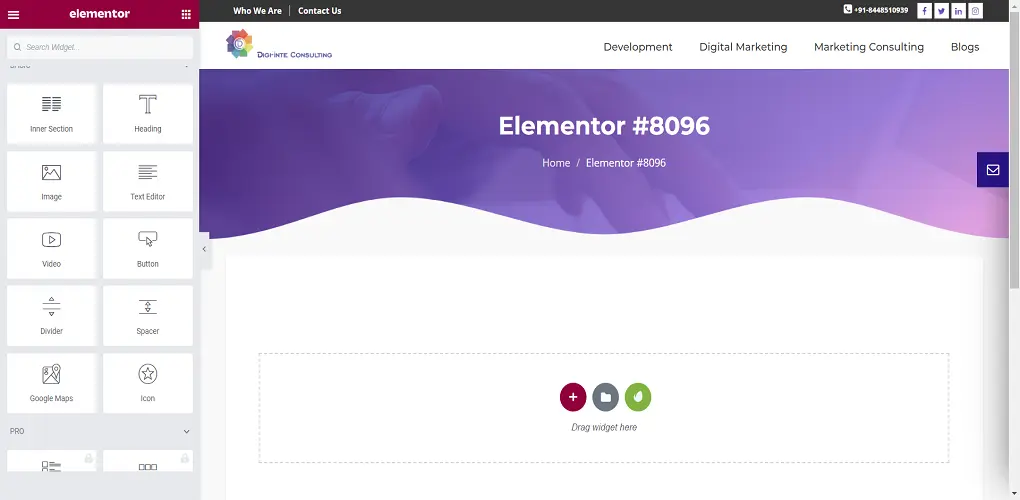 Step 5. Create your page/post as your requirement – Add Heading, text and Images as you need.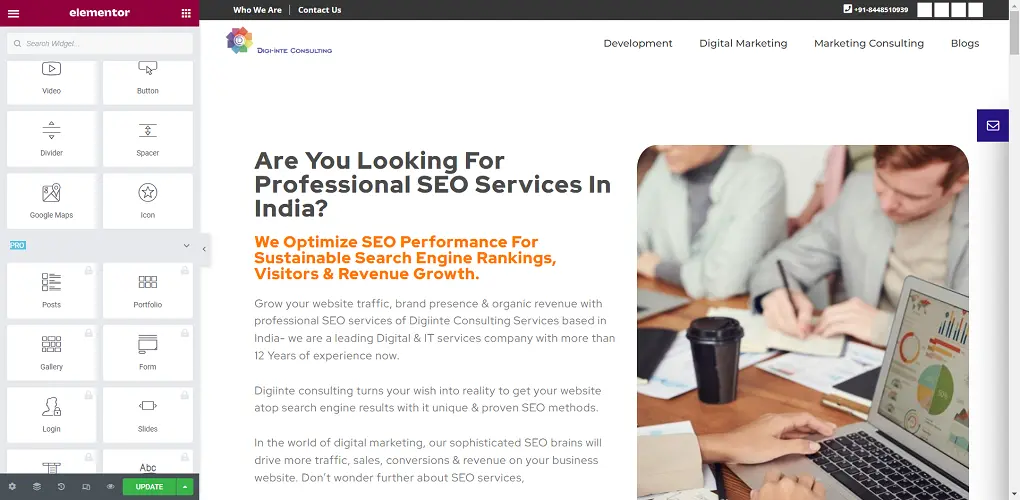 Step 7. When you're finished designing your page then you must click on the publish button. now your page is ready for the world.
Step 8- for preview our page, click the eye icon.
Elementor Templates
Elementor templates are pre-built pages and blocks which you can import into your WordPress dashboard within a minute and create a beautiful design.
Elementor gives you freedom to access different types of templates for your business. Now in this section, we will understand how to create a page with the help of Elementor templates.
Step 1: First, Open the page in elementor page editor. and go to the bottom section of the page where there's a section that says Add widget here. then Click on the white folder.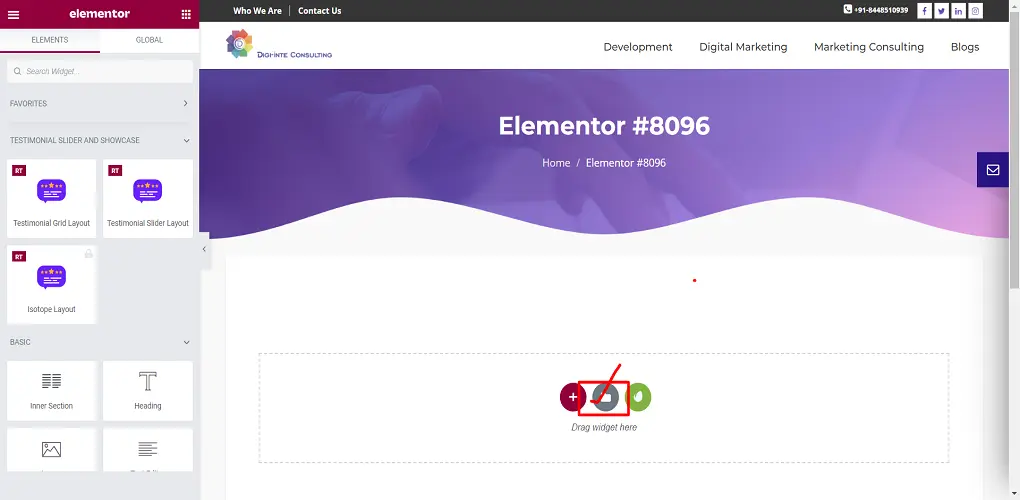 Step 2- When you click the folder a library will open in the popup window, this library provides you with hundreds of designer-made Page layouts and Blocks.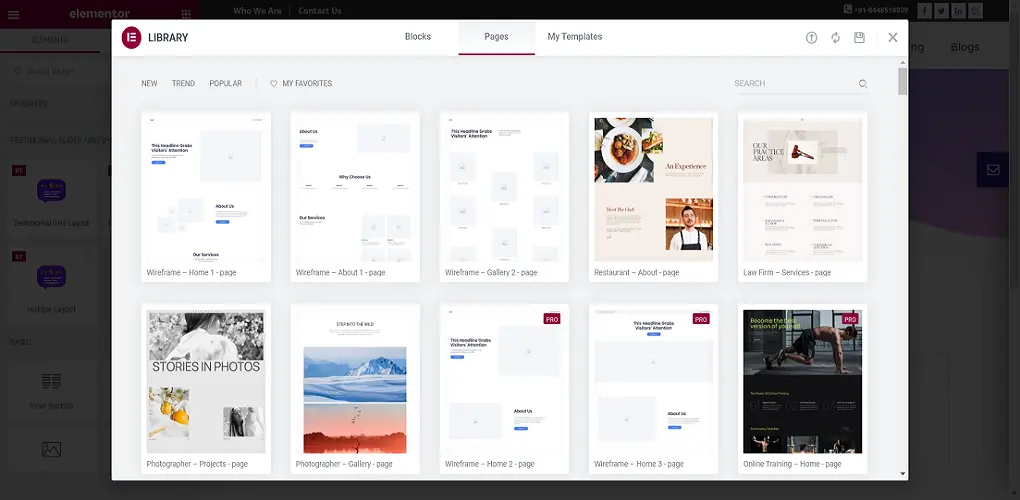 Step 3- Hover on any template then click the insert green button. Before importing elementor template you must connect with the first elementor templates library. so, you have to first register or sign in to the template library.
Step 4– Now you can create a page layout with the help of the templates library.
Wix Vs Elementor
Elementor is a remarkable page builder, being so unique makes it comparable with other page builders.
So, what do you think about Wix Vs Elementor?
You might get confused to make a pick between Wix or Elementor for building a new website.
Which one is a better choice Wix or Elementor for your requirement? Not sure! Let's check out the comparison below to make you understand the best choice for you-
| | | |
| --- | --- | --- |
| | Wix | Elementor |
| Templates | More than 800 | More than 300 |
| Price | $156 per year | $49 per year |
| For Starters | Easy | Easy |
| SEO Ready | Good for SEO | Good for SEO |
| E-commerce Supportive | E-commerce plans are fully integrated | Excellent E-commerce toolkit |
| Customer Support | On Trustpilot- 1.6/5.0 | On Trustpilot- 2.9/5.0 |
| CMS | Wix | Elementor |
| Offers Discount | No | Yes |
| Overall grade | 8.6 | 9.5 |
Wix Vs Elementor at a glimpse-
Both Wix and Elementor are releasing new features. There is no doubt about their gaining popularity for building a website. Both aggressively release the features.
Two famous WordPress website builders
Both Wix and Elementor are very famous for building a website. Both together have more than 6 million websites running.
Wix offers monthly repeatedly fees starting at $13 per month-includes hosting for one website. Elementor offers a $49 annual subscription without hosting.
Disadvantages of Wix
No offers to price for one-time.
Not providing good customer support.
Not possible to get custom solutions.
Disadvantages of Elementor
Here, you still use their page builder without support.
3rd party plugins may cause issues.
No amazing block library.
Many of you might have a question, Is Elementor better than Wix?
Well, not always! A lot prefer to have Elementor just because of its price and pliability.
If you are an individual or have a business and looking to use drag and drop for WordPress, Elementor is a great option. It is wonderful to maintain full control over every single feature and you can choose your hosting.
On the other side, Wix offers easy-to-use to build a website and a variety of hosting solutions. If you want a solution in a package to create a website, Wix is also a wonderful choice and can be considered as an alternative.
I leave it up to you to decide which one is better, Wix or Elementor!!
Wrapping up Elementor
According to many users, Elementor stands as the best WordPress page builder plugin. Others prefer to have Divi or Beaver builder- it is a matter of choice and needs.
It is recommended to consider the Elementor Cloud Website service if you are planning to develop a website.
Elementor offers a free version to install followed by upgrading to Elementor Pro to have more functionalities.
Covering some FAQs related to Elementor Page Builder
·  Does Elementor slow down a site?
Elementor is just like other page builders, adds some weight, and uses WordPress editor. If you are using Elementor smartly and performing the best WordPress practices, you can build a speedy site with Elementor.
·  Is Elementor good for starters?
Of course. Elementor is a wonderful option for starters because it offers the best to customize with drag-and-drop rather than knowing the code.
·   How useful is Elementor Plugin?
It is very useful-
–        One can make email option forms.
–        One can make popups.
–        Easy to create landing pages.
–        Easy to design custom pages.
 
·   Who can use Elementor page builder?
Are you a website developer, freelancer, blogger, or digital marketing agency? If yes, it is indeed a great option.
·  Is Elementor good for SEO?
It is SEO-friendly! You should be using a WordPress SEO plugin.
·  Is Elementor worth learning?
Yes. If you are a new site owner, it helps you to improve your site remarkably without having any developers. It is easy to use even if you don't know the page builder plugin.