Times are changing so fast, the world has become more accessible to all. It is the time for social media. We all know there are a lot of ways to communicate around the world. Communication is so easy now; it hardly matters wherever you are. Whatever we are intended to do, social media helps in many ways.
People have started to opt for social media marketing to soften their lives. Many entrepreneurs know the buyers have changed the medium of buying products, so they have started to run their businesses online- there comes the role of the social media marketing that works fantastically.
Social media marketing has proven to be beneficial to successful businesspeople. It is a platform to meet the target audience and the customers and get socially interacted with each other and your brand.
A brief introduction to social media marketing- Popularly known as SMM, it is a public communication channel where people interact & as an organization we can connect to promote products/services and interact with customers to build brands, increase sales, and drive traffic to business websites.
These are the social networks that are popular & we are well familiar with.
Facebook
Tiktok
Instagram
Linkedin
Twitter
Youtube
Snapchat
Experts always recommend utilizing social media tools/software that will automate a lot of hard work to execute, track & optimize social media strategy. Social media tools are available to help you in saving your time and in increasing results.
Let's talk about social media tools just to know how important these are and how they work to give positive results– We will cover the key points. These points will let you know the importance of social media tools. It is up to you that you will find the best for your social media requirements.
Social Media Tools best for your business- Today you can do almost every task as a social media marketer with various amazing social media tools. This tells the importance of social tools.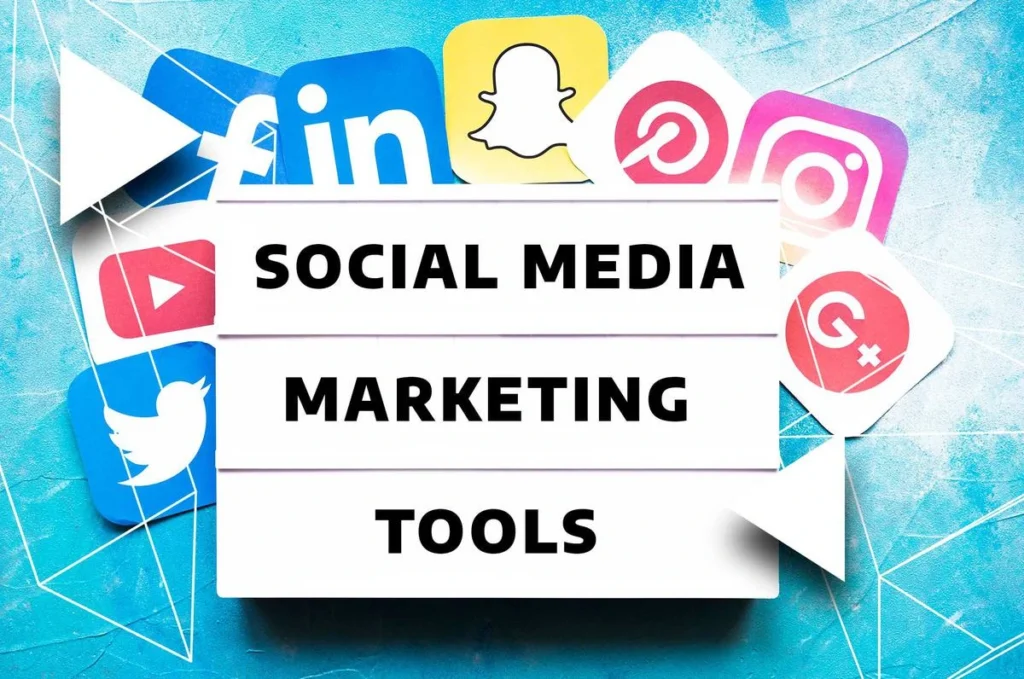 How to choose the right tool that aligns with your business targets and needs?
You need to differentiate and have an overall view of these tools, you should know about the main functions of social media tools to decide your selection.
Social Listening Tools
Social Publishing Tools
Social Management Tools
Social Analytics and Reporting Tools
Social Engagement Tools
For Lead Generation Tools
1. OptinMonster-
Strong tool for lead generation-Instantly boosts leads.
It lets you engage visitors at the exact right moment.
To capture leads, it comes with drag-and-drop form building visually stunning lightboxes, popups, and landing pages.
To grow a wonderful list of mailing to recovering abandoned carts can be done by using OptinMonster.
The new ChatBot element is used to connect ManyChat
2. Smash Baloon-
This social media tool is easy to set up simply install the plugin, and connect the social media account.
It's pretty rightward to embed the social media feeds anywhere on your website of WordPress.
Without leaving your site, users can interchange your feeds.
Smash Baloon provides 4 different plugins-
Instagram Feed Pro
Custom Twitter Feed Pro
Feed Pro for Facebook
Feed Pro for YouTube
These are extremely customizable.
Monitor and Sharing Tools
3. Sprout Social-
A powerful tool in the world of social media marketing is used to find solutions to social media problems.
A leading platform to bring out the real business value from social.
This tool comes with full post-scheduling capabilities, social listening tool, and analytics insight.
Although this social tool is all-in-one automation still it's quite expensive when you are starting with a limited budget.
Its standard price starts from $99 month to month.
4. SocialOomph-
This works nicely for a social media scheduling solution.
All the activity and schedule updates(Facebook, Linkedin, Pinterest, and Twitter) are monitored here.
SocialOomph provides easy going to upload multiple posts at once.
This tool is less user-friendly and doesn't come with the features and graphic touches that users expect.
Use SocialOomph free of cost when users get stuck, it supports them.
Content Curation Tools
5. Buffer-
It is one of the simpler social media tools for authentic engagement.
Buffer instantly puts your posts to en queue to schedule them on various platforms.
Reply, Publish, and Analyze are three classifications, buffer divides its product.
Buffer helps you to build an audience organically.
Pay $10 per month to manage 12 social profiles and can have unlimited posts in your buffer.
6. Hootsuite-
It is a tool that offers features to assist with scheduling, planning, and organizing social posts.
Its analytics tool allows you to measure content engagement to understand the performance of your campaign.
It provides great feature functionality- an easy-to-learn user interface.
To monitor conversions important to your business on social media go for the Hootsuite tool.
Hootsuite is popular for its skill to schedule and publishing messages to many accounts at the same time.
Security Tools
7. ZeroFox-
It is a security tool for all social media platforms. It works with Google Play and Apple's App Store.
It takes full control of social media accounts and gives protection against hackers.
Protects the domains, emails, mobile app stores, or the deep and dark web.
It offers comprehensive protections so choose what you to protect.
8. LastPass-
This tool is designed to save your passwords in its encrypted password code.
According to your business needs use it to have even stronger passwords for social media.
The benefit of it is that you only have to keep up with one password.
Choose a plan that works best- Free with unlimited passwords and access on one device-mobile or computer. Premium costs $3/month with all free features and access on all devices.
The best influencer marketing tools to work with for your social media marketing-
Upfluence
Tapinfluence
NinjaOutreach
Buzzsumo
HypeAuditor
The best social media marketing tool-
Hootsuite is one of the excellent tools. It has great features that make it an all-rounder social media marketing tool.
The features involve social media monitoring and scheduling.
It gets you engaged with your audience and starts social media ads through it.
Importance of social media tools-
People always search on google to find out the significance of social media tools, these tools can collect all the sent messages of your profiles and networks to one place, you save time and endeavor to continuously run the accounts.
As the significance of customer service strategies and social media marketing has risen, social media tools have too gained popularity. There are some reasons for the importance of social media tools- Considering the key points- as follows-
To manage customer relationships.
To continue building with social engagement.
To manage multiple social pages.
To keep an eye on relevant keywords.
To grow social accountability.
To study social performance.
To make efficient team collaboration.
Listing out the best free social media tools-
It's always been a struggle for some of you to figure out which tools are both affordable and good. Let me shed some light on the best free-
CoSchedule
Hootsuite
Buffer
Crowdfire
TailWind
Later
If you are promoting your business on the grounds of social media platforms then social media marketing and its tools are very useful. Use these to create content, automate posting and get more commitment.
Even if your budget is low, you can use the above-mentioned free tools to improve your marketing skills
If you know about any other social media marketing tools, please free to share!