Do you know creating a Blog is a powerful marketing strategy to run a successful business?
Blogging is a rich sustainable source of recurring income. Although the results are delayed but once start, it provides massive returns.
So start becoming a blogger today! I have seen many who have turned out to be a blogger with great benefits, whether it's part of their profession or hobby.
What are you waiting for?
If you are thinking of starting a blog with no money and no experience then just go ahead but remember it's only your passion that aligns things for you.
In this post, I will also discuss several ways to monetize a blog. Do you know, what keeps you up to create a blog?
It is always important to use the right blogging tools, you can give a rise to more leads, encourage trust with your readers, and gradually improve rankings on search engines.
So let me put its definition in front of you first. "Blogging"
Blogging: Blogging is the regular publishing of posts on the blog section of your website. It's all about writing an event, situation, topic, etc. It is intended to boost your traffic and send quality leads to your website. The perfect result of a successful blog is to connect you to the relevant audience and provide them regularly with valuable information.
As I discussed in the starting there are Tools for the best blogging
These tools are—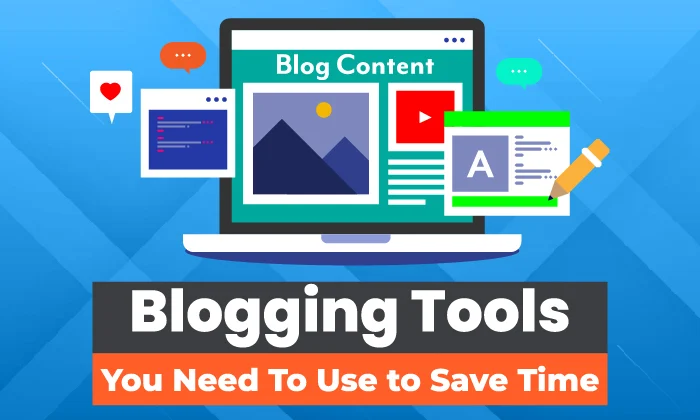 1. Writing studio: Writing studio is a prestigious blog writing service. A team of experts in a writing studio can create compelling SEO-optimized, edited, and proofread blog content for you. It stands amongst the best to outsource blog writing to a professional because writing blogs is time-consuming.
The team hired by you will even help you to find blog topics and well-organizing the entire content creation process. To find the topics worth your time always go ahead with-
The purpose of your blog
Always identify your topics
Research keywords
Creating content hubs
These will push you to spend more time on the bigger picture, form strategic business partnerships, and develop your website and brand as a whole.
2. WordPress: WordPress is an open-source software you can use to create a wonderful website, blog, or app. Around 43% of the web uses WordPress, from hobby blogs to the biggest news sites online.
With a drag-and-drop block editor and numerous themes and plugins, you can create a customized blog with the exact look you want. You should have time and resources to invest in purchasing and maintaining third-party tools and templates.
WordPress is the best for bloggers who want to create a blog on both the front and back end of their website. Just make sure that your theme and plugins are compatible and up-to-date, otherwise, they can perturb the user experience and break your site.
3. ShareIt: ShareIt has proven beneficial to social media teams and bloggers. Enter a keyword into its search box and you get anything you want. It assembles a list of suitable content items and social handles for you.
The availability of these articles is in a variety of media, with videos, blogs, and more, containing a separate option for influencers. It displays a list of renowned people and popular websites. ShareIt is useful to share content immediately to your social media accounts by using the sharing buttons of social next to each content suggestion.
You can have shareIt free of cost, get the social handles of important influencers, and approach their trending content. It is completely free to use, you can quickly and securely share any content on social media, anywhere in the world.
4. Ahrefs: Ahrefs has earned its reputation of being the most popular SEO tool, with a special emphasis on competitor analysis and keyword research. It helps to grow search traffic. Ahrefs earns its stripes as a backlink analysis tool.
Ahrefs doesn't offer any free trial, it comes up with a price starting from $ 99/month. Some plans are there which allow you to access the resources like site explorer, content explorer, keywords explorer, and rank tracker.
Some tools included in Ahrefs are—
Keywords Research
Backlink Research
Content Research
Web monitoring
5. Google Analytics: Google analytics is a well-known tool to optimize your content. It's just one of the tools that offer insights into the overall google marketing platform brand, designed for marketers to find the best channels that might help them in getting the best results.
It allows users to track the audience's behavior and share insights with effects. If you are an aspirant for a web developer or search engine optimizer, you get the exact data just by linking google analytics with your websites. It measures up the traffic on any particular website.
Google analytic tools come with the drawback of lacking reporting features. To save any data you have to create custom reports.
6. Yoast SEO Plugin: Writing in WordPress with Yoast SEO you have the option to execute all SEO parameters such as keywords, title, etc. If you want more search engine traffic and sales, you can't ignore your on-page optimization.
Optimizing content for search engines is not easy when you are a beginner in SEO. With the use of the Yoast SEO plugin, more than 1 million people across the world simplify their on-page SEO.
The plugin shows you where to put that keyword you want to rank for throughout your content to rank well in search engines. Yoast SEO shows different dots such as red and green. It gives precise SERP Rank tracking. Talking about its deficiencies- it is not able to define canonical URLs, the speed of the site is low, and sometimes your site is under threat.
7. Quora: If you want the best answers to your questions on any topic then Quora has proved to be a platform of satisfaction for those questions and answers. You will get many ideas before creating content for your blog's audience, just make sure you search for the relevant keyword and follow the topic related to it.
Quora facilitates the advertisement of your product or service on the platform. It gives you an intuition of the current topics and tendencies under discussion. Whatever you publish there all will be read by hundreds of thousands. It is lacking at some points like it is not easy to use, Quora application is not handy. The website of quora is irritating as it frequently tells you to download the application resulting in an interruption in reading the articles.
8. Grammarly: Grammarly has earned popularity as a content proofreading tool. A platform for writing at its best and writing grammatically correct blog posts. It ideally checks your spelling, grammar, and punctuation. It allows you to refine your sentences and make those sentences more clear.
It has limited features in the free version. However, if you like to upgrade to the premium version, it will cost you just $37/month. With this, you get the accessibility of over 250 new, 24/7 callbacks, email support, premium checks, and availability within Microsoft Office and 7 days money-back guarantee. For one drive and other platforms, Grammarly does not work in a nice way which is a curb about it.
9. Canva: well-known for graphic design. It's a tool for creating branded images and templates. By using the images, you can develop them for certain keywords to bring more traffic from google.
Being a blogger, you need to design a lot for your content. Canva is a wonderful tool for creating an infographic within minutes. You can create visual content for your blogs. Even small marketers will benefit from using this tool, this tool glitters because of its outstanding collaborative features. Canva offers you designs for the products like videos, presentations, brochures, fonts, etc.
Moreover, it's a free tool to create great images. All you need to do is just find the free images and design them according to your need. Also, it has gained some drawbacks, if you want to resize your design for different dimensions, you need to upgrade to a paid plan. For each premium photo, you need to get Canva credit which is not likable by its users.
10. Clockify: Many bloggers around the world are using this tool, a free time tracking tool. With this users can record time either manually or automatically. Whenever you are engaged with work you can just let the app track the time.
Clockify calculates the billable hours when you spend doing a client's work as billable hours. You can create invoices for clients in just a few clicks. You can track the time on the desktop and in a web browser, everything is synced. Clockify has features like reporting, timekeeping, and management. Clockify integrates with 80+ web apps like google docs, Trello, and EverNote.Have clockify on your servers to support security and privacy. It has limited browser extensions available for chrome, firefox, and edge which are not liked by many users.
Let me emphasize, How to make money from blogging?
To start making money from your blog, there are many online businesses models-
Ads Monetization: This offers to advertise on your blog to make money.
Affiliate Marketing: You can earn income by just recommending the products.
Digital Products Offerings: From your blog, you can sell things to earn a good amount.
Training: Monetize your blog through training. 
Frequently asked questions
I have come across a few of these FAQs-
Types of successful blogs?
According to my research, I have seen some blogs successful in the following fields- Fashion blogs, Lifestyle blogs, Food blogs, Travel blogs, Affiliate, Multimedia, and News blogs.
Blogging is in the form of Content Writing that will surely earn you a high level of conversions while costing 60% less than the conventional form of marketing and generating 3 times as many leads.
The very best thing comes is, that blogging gives employment, gives opportunities to rise. If blogging wasn't in existence it wouldn't be easy for us to share stories, opinions, and reviews.
Pros and Cons of blogging?
Pros-
Easy and quick to update and add for the new posts.
Easy to set up don't need technical knowledge.
People leave comments on whatever you post.
You can always write your thoughts on any topic.
Cons-
It consumes time.
Sometimes personal blogs may contain unsuitable information.
People may leave inappropriate comments and sometimes get rude.
Final Thoughts:
The dedicated tools we have discussed here make blogging a glide. It has proven the best to make money and always be on your toes.
Once you finish your blogging work, put effort to promote.
The social media platform is always there to hit, Facebook, Twitter, Linkedin, Instagram, Tiktok, etc.
If you are serious about making money from blogging, You must go on spending money first. Use the tools above to create enriched content or a blog to reach out to the people to get popularity and of course to create a lasting, positive impact on your company.