The digital marketing world has got transformation by SEO and Content marketing- you all might know that SEO helps businesses to grow by getting keywords rank & website visitors growth that eventually brings in leads, and online sales business success.
Now gradually brands have started understanding the role of SEO in brand building & reach.
Thinking of SEO without content is impossible- it's like a car without an engine!
SEO and content marketing work together. Being ranked on top of SERPs with relevant keywords is like winning a game's trophy- and it needs the combination of SEO and content marketing. SEO encompasses content marketing since every website requires its vision, products, services, etc to be communicated through words, articles, keywords phrases, audio, video, etc. so to achieve success, SEO and content marketing must walk together. These two digital marketing tools are inseparable- made for each other.
A brief intro about content marketing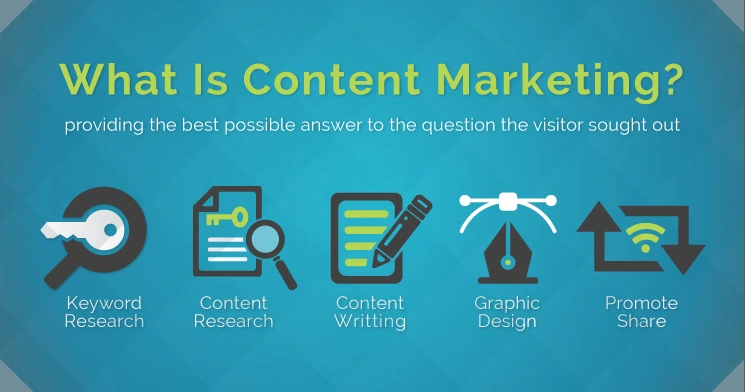 Content marketing is a strategic approach to attract, engage, and hold the audience by making fresh articles, videos, podcasts, etc. The objective is to communicate, interact, and create awareness among the target audience which eventually benefits you in increasing business growth.
Quality content-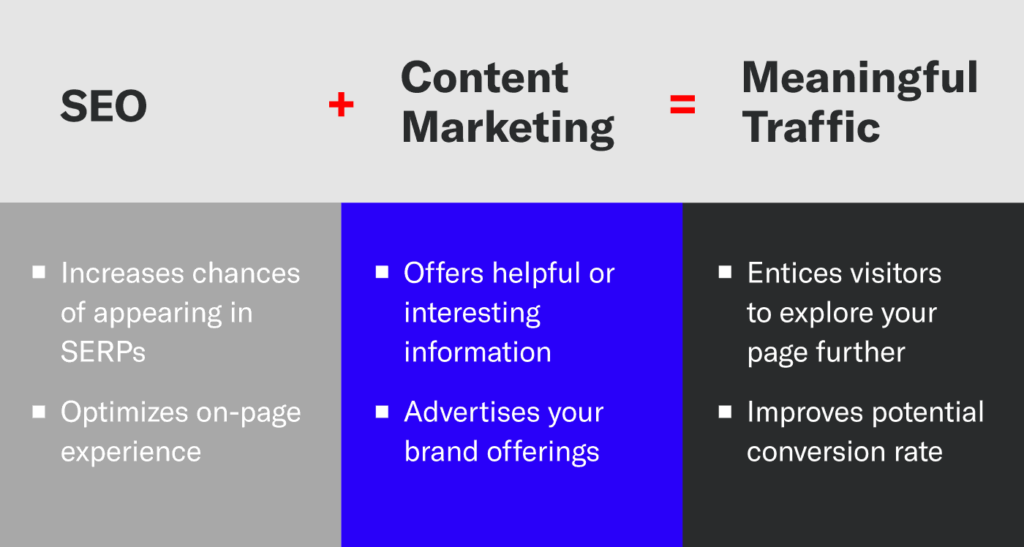 SEO and content marketing need steadiness- new, distinctive, and creative content that gets indexed easily and holds the top ranking. Content must tempt the user's intent and solve a particular query he is looking for.
Powerful content comes by creating content that solves the user/reader objective which could be in terms of sharing information, knowledge, or a solution that met to user intent to reach the web page.
Using relevant keywords, long-form informative content, and engagement by targeting the audience are the leading signals for Google which determines the importance of a page and gives the ranking to the piece of content.
How can you let Google know about the relevance of your content? The simple answer is- to go with clarity with your content.
Related: 7 Reasons Why SEO Matters for Every Start-up
Shedding some light on the SEO and content marketing- how the duo works in harmony to transform the online business-
The right way to optimize the alliance between SEO and content marketing is to establish key performance Indicators to track the content performance, monitor it, and ensure the common goals are achieved.
These KPIs involve- purposeful content, content sharing, content links, online user engagement, conversion rates, and others.
When you are setting common goals, you are taking the right move for SEO and content marketing to work in harmony to get you positive results.
How can you set the activities to set common goals? Do you want the volume of online traffic, links, or rankings to your website?
The answer to these questions will give you the right direction to create an integrated SEO and content marketing strategy with insights to focus on the goals.
Understanding the Target Audience
SEO and content marketing strategies necessarily understand your target audience. Make personas of the audience and create a distinctive digital marketing & content strategy for each persona. Personas could be based on age, interest, likes, dislikes, etc.
You should be clear about the audience's needs and interests, when you are not sure, then you need to think again about whether this is your cup of tea.
Prepare SEO-Optimized Content
Google always prefers quality content, users come to google search because of its reliability, consistency, and good quality source of traffic on the internet world.
Research reveals that- 68% of all online experiences start with a search engine query.
By creating an SEO-optimized content strategy, you are more likely to have quality ample traffic to your website and be able to attract a high volume of interested visitors to the products/services. With highly impressive keywords, you can make strong and appealing content for search engines.
75% of the searches never go to pages other than 1st page of the search engine.
Types of content optimization for SEO: –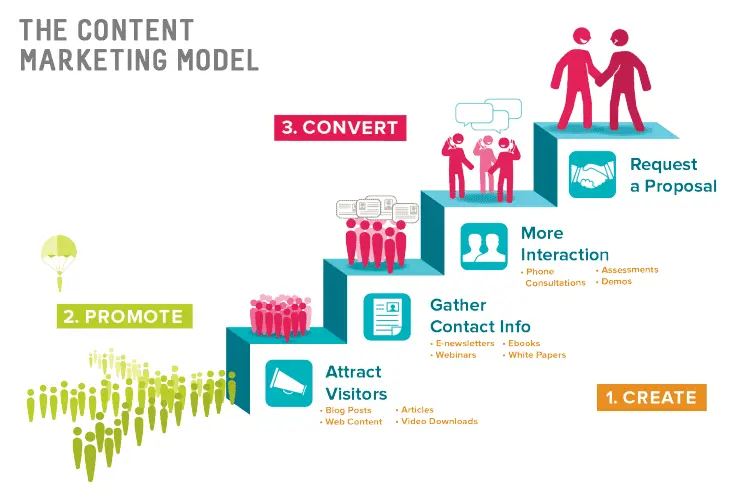 – On-page content optimization
– Content optimization for conversions
– Content optimization for backlinks
Research Highly Impressive and Relevant Keywords
Use the website content with related and relevant keywords and the selection of your keyword should be searched properly by using online tools- Google keywords planner, Google trend, Word stream, etc.
You must find the relevant keywords for the levels of the content marketing funnel-
Divide your content strategy as per the level of user engagement and plan your content funnel and tonality of content.
– TOFU- Top of the funnel
– MOFU- Middle of the funnel
– BOFU- Bottom of the funnel
The purpose of keyword research is to find relevant and high-traffic keywords around which you can make your content.
Planning a content funnel will solve your SEO and brand-building requirements.
Focus to Create on Internal Link Building
Internal link building works out amazingly to increase the website's ranking along with published content. In addition, the creation of internal links results in an improved user experience because of easy wayfinding around the site.
High PageRank has benefited by spreading link juice to related web pages via internal linking best practices. When users find the content in the linked web pages, they stay longer on your website, and finally increases your page engagement.
Internal link building is easy to apply for improving the site ranking and gives direction to the users with relevant content.
Nothing like SEO vs Content marketing
We cannot refuse the duo to be used together-SEO helps people to find your content whereas content helps to drive traffic to your website and improves the ranking- SEO works great with a solid and successful content marketing strategy.
To see the results of your campaigns, stay focused on building a strategy that comprises these strategies to work jointly.