If you want to create a blog or website for your business, you need to have a registered domain first, which is a unique IP address of your website. In this section, I will help you where and how you can buy a domain address. Before you buy a domain, you need to understand what a Domain is.
What is Domain
A domain is a digital address of any website that you create for a personal blog or business purposes. To develop any website, we need a domain name because that is your online identity through which people can call or recognize him, similarly with the help of the domain, which is your website address that allows your users to access your website on the internet. Without a domain name, a user will be unable to access your website.
TYPE OF DOMAN NAME-
Domains are classified into two types
1 Second Level Domain-
The second-level domain is a unique name that you choose to represent your website that people can easily remember. It appears just to the left of the Top-level domain. for example, you can easily understand.
www.Digiinte.com
In this example, you can see Digiinte is SLD (Second Level Domain). Which represents your website and .com is TLD (Top Level Domain)
2. Top-level domain.
A Top-Level Domain is known as a domain extension. it appears right side of SLD, after the. (Dot) It is most important when you are buying a domain name for your website to keep in mind which domain extension you should choose. These are the most popular domain name which you can use.
.com
.net.
.edu
.org
.gov
It's also important to understand how to decide which TLD you need to have, which will depend on the nature of the business or things you deal in, .org is taken usually for non-profit websites such as charities, NGOs, open-source projects, .com is for commercial entity and is most commonly used TLD, .edu for education-related ventures, similarly other TLD are used.
Choose A Domain Name
Since it's clear now how and why we need a domain. Now to choose a domain name, there are tips.
• Choose the right domain name extension
• Unique and branded
• Avoid hyphens and number
• Easy to remember
• Use keywords in your domain name related to your website
How to buy a domain name
After choosing the right domain name, next, we understand how to buy a domain.
• Find a domain name registrar
Before buying a domain for your website, you should choose the right registrar accredited by the Internet Corporation for Assigned Names and Number (ICANN), the non-profit organization that controls the rule and regulations of domain name registration. You can choose any registrar company as NameSilo, Domain.com, GoDaddy, name cheap, and there are more.
Make sure to choose a domain service provider that you can continue for the long run because you will need to renew your domain & must save your login credentials.
• Search Domain Name
The next step is choosing a domain name to relate to your website. Enter the domain name in the search box.
Maybe sometimes it shows the choice is already taken then you should take different approaches just keep searching or choose other extensions.
• Purchase and complete the registration process
When you find a domain for your website. you can buy it online and when during the checkout process you will need to enter your information, and email address to register to the domain.
• Verify the ownership of your Domain Name
When you buy a domain name service you need to verify your domain ownership and prevent other people from using it without your permission.
Now you must have understood where you can buy a domain name. On the Internet, there are many options available to buy a domain service. Here many web hosting and domain registrar companies provide domain services.
Registrar Company and Webhosting Company.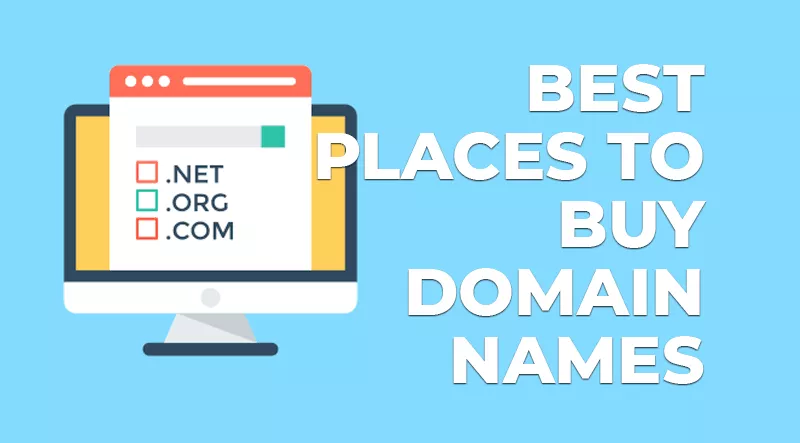 Name Silo- Name silo is an American Webhosting and registrar company. It was established in 2009. it is one of the cheaper options and so if you're looking to save money this is a good option for you. Name Silo provides many other services just like Webhosting, website builder, and free logo maker.
Domain.com –domain.com is a top-level domain registrar and a Webhosting company, along with domain services, it also provides web hosting, email hosting, and other services.
Google domains – Google Domain is a very interesting domain registrar. it comes to market in 2014. they do offer integration with Google workspace, which makes sense because it's another Google product, but I would say Google domains is a good fit for those who are using WI or square space and are looking to save some money with your domain.
Namecheap –if you want to buy a domain name at an affordable price. Namecheap is one of the affordable domain registrars, which provides all kinds of services like web hosting, email hosting, security service, and many other services.
Godaddy.com- GoDaddy is an American Webhosting and registrar company.
It is one of the biggest domain registrars that is serving since 1997. GoDaddy not only provides domain services, but it also offers many other services such as web hosting, email address, security, WordPress hosting, and more.
I hope this should help you buy your domain with different services providers & the logic behind how to select the best domain for your business or personal blog.