What is SSL and how to buy Best SSL certificate in 2023
While surfing websites we often come across "This connection is not secure"
And you might have thought is it safe to visit this website? same could be happen
to your own website, whether you are a business owner or a blogger it is a must to have a
security SSL installed on your website.
Isn't it a suitable time to grab all-about SSL certificate?
So what is SSL & how to recognise it?
SSL stands for secure sockets layer which can be considered as the passport of your website. It holds the information about the business, website, and person you are connecting to. Look at the URL of a web page in the address bar of the browser, alongside the text just on the left, you will see the small green padlock that is the identity of a secure SSL-certified site. Now if you click on it will show you the information about the certificate.
Considering it a giant warning "This connection is not secure" in the browser can corrode the trust and can ruin the image of your business. This happens often too small business owners who are ignorant of the significance of strong website protection.
If you want to get rid of that bothersome notification and want that your customers' data will be secured on your site, then buy a Secure Sockets Layer certificate.
Sometimes a question arises How Does SSL Work?
If you are the one who has this question in your mind then let me try to answer.
SSL mainly focuses on providing a secure transport layer connection between two endpoints, the client, and the server. This connection is typically between a website server and the client's browser.
SSL consists of two different protocols-
Handshake Protocol- It verifies the server, negotiates crypto suites and creates the shared key.
Record Protocol- It isolates each connection and uses the shared key to secure communications.
When you get an SSL certificate from a service provider, you just install it on your server. It's easy go.
It is important to have the best SSL certificate services because trust is everything. Plenty of SSL certificates are available, including Domain Validation (DV) SSL, Organization Validation (OV) SSL, and Extended Validation (EV) SSL.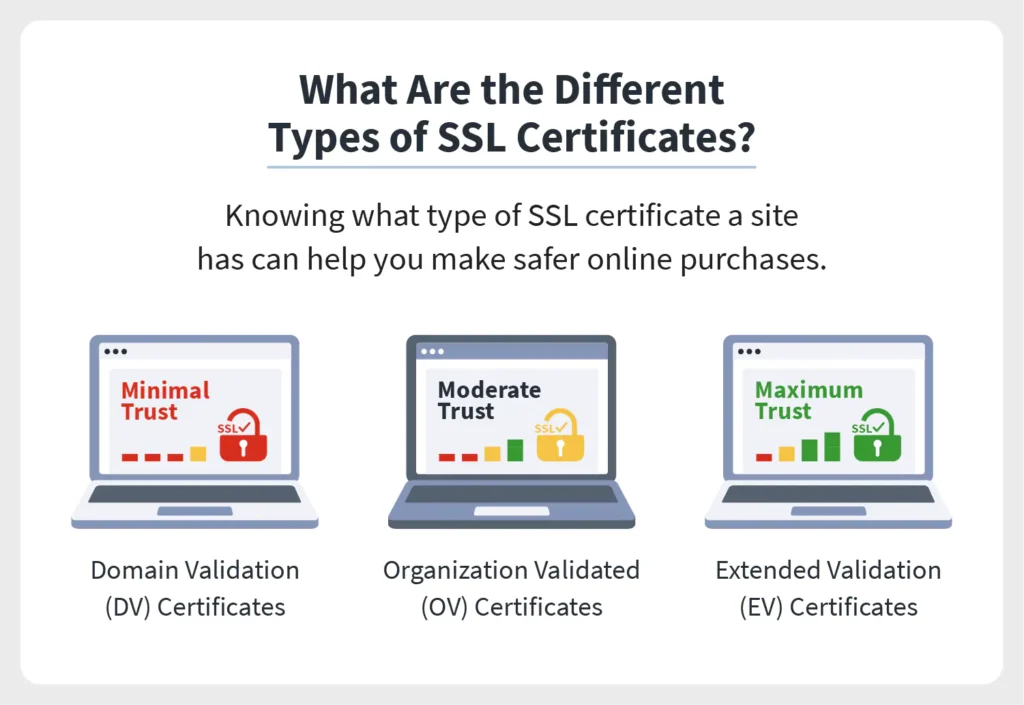 Relationship Between Types of SSL Certificates
Domain Validation(DV)—This is the best for personal websites. For authentication, it just needs to verify the domain is registered to the owner of the domain
Organization Validation(OV)— Suitably works for businesses or non-profit websites. Its validation works highly. Here the Info's are checked deeply making it more secure than DV SSL.
Extended Validation(EV)— Reliable for E-commerce businesses. EV SSL is well known for its strongest protection. Info's are checked for the address, business, location, e-mails, and financial transactions.
But how are you going to pick a good SSL provider? Just— read on and find out.
Here we have a list of 5 SSL certificate providers, we'll engage in a deep discussion of all the criteria when picking the right service provider for you.
So why wait, Let's get started—–
Comodo SSL- It provides the best overall SSL certificate service. Its pricing starts at $ 7.02/Year, for a single-domain EV SSL, its price comes to $141.11/Year, for five years or $ 179.99/year.
One of the most expensive SSL certificates is $ 2351.22/Year which is on a five-year term. This is made purposely for enterprise customers to manage multiple domains.
Domain Validation (DV) SSL, Organization Validation (OV) SSL, and Extended Validation (EV) SSL are the types.
Being very affordable and having good customer support are the strong reasons to buy comodo SSL. It is considered to avoid just because of one reason — validation takes time if the information required for Comodo SSL to complete the checking process is not available online.
Pros:
30-day money-back guarantee
Low-cost DV certificates
Generous warranties
Offers multiple types of SSL.
Cons:
Up to five days to verify ID
Best prices need for a long-term plan
2. DigiCert SSL- It offers the best customer support service. Its lowest price starts at
$ 218/Year. You can have Wildcard SANs, with a price starting at $ 785 per SAN.
It offers a Premium SSL certificate service.
Types of SSL are- Organization Validation (OV) SSL and Extended Validation (EV) SSL.
Domain Validation (DV) SSLs are available, first, one needs to sign up and then request it, particularly from a company representative.
Surely some reasons there to buy it, It has a tempting wildcard option and is Bolstered by the Norton acquisition. Its starting prices are not the cheapest at all makes it to avoid.
Pros:
It offers a 30-day money-back guarantee.
Priority support for most accounts
$1.25 million to $2 million warrantees
Offers Multi-domain security for any SSL certificate
Cons:
No DV SSL pricing here
checking out is confusing
3. SSL.com— It is well-known for its fast turnaround times. Low pricings are the star attraction here. A single domain level certificate price starts at $ 49/Year but can be as low as $ 36 per annum if purchased for 5-year. If you require an SSL certificate quickly, SSL.com is there to provide it in just five minutes.
Types of SSL are- Domain Validation (DV) SSL, Organization Validation (OV) SSL, and Extended Validation (EV) SSL.
Very affordable prices and having good customer support are the genuine reasons to buy SSL.com. To get the best prices one needs to go for longer-term plans which makes customers go away from this SSL.
Pros:
Money-back guarantee.
Fast issuance of most SSLs
$10,000 to $2 million warranties
Site trust seals included
Cons:
Languages are a puzzle on the sites
4. Entrust— It offers the best service for multiple websites. A well-organized company run by experts in the field of security. Prices start at $ 199/Year for its Standard SSL single site product, reaching $699 for a wildcard SSL covering unlimited subdomains and servers.
The types are- Organization Validation (OV) SSL, and Extended Validation (EV) SSL.
Reasons to buy are, its ability to manage numerous certificates. Entrust has proved to be a good solution for any business that runs multiple websites.
Its service is not affordable at all makes it avoidable.
Pros:
Money-back guarantee
Offers phone, Live chat, and e-mail support
$5 million warranty on all SSLs
Cons:
Support of limited hours
Pricing is not transparent
5. AlphaSSL- It stands amongst the best for single-site value. AlphaSSL is offering single-domain SSL certificates. It offers DV SSL for $49/Year, but no discounts for long-term contracts. Wildcard SSL is available for $ 149/Year.
No other SSL is available here except one- Domain Validation SSL (DV).
Support is there via a ticket system. There is a warranty for all SSL certificates.
The best use of this certificate is it is available with a low-cost security solution for a single site-one year.
Pros:
The checkout process is simple
Pricing is affordable
All SSLs come with warranties
Cons:
For multi-year no discounts
Just offers DV SSL
No multi-domain SSLs
Ratings By Forbes Advisors
Comodo SSL 4.8/5
DigiCert SSL 3.5/5
SSL.com 3.3/5
Entrust SSL 3.3/5
AlphaSSL 3.3/5
Pros and Cons are two rivals that always go parallel to each other. So I have discussed them here to understand these certificates better way.
(note- Above comparison reference and credit goes to "forbes Advisor")
Things to consider before picking are usually there on everyone's mind. Isn't it?
Before you buy, it is always recommended to have someUnderstanding Of SSL Certificate
As I have discussed now these secured certificates, now I think I should shed some light too on things to consider. According to my research, I think some of the following topics need to consideration —
Which level of validation to choose: If you have gone through this post, you must have come to know about the 3 types of validations- Domain Validation, Organization Validation, and Extended Validation. You can choose according to your requirement.
Issuance time: It tells you when you want the certificate to be issued. Every SSL has its own time to issue its certificate.
Protection of your domains: It's always usual for website owners to secure more than one domain. You can protect the domains by using Wildcard SSL-
domain.com
login.domain.com
mail.domain.com
ftp.domain.com
But here is one thing should keep in mind for Wildcard SSL certificates, it comes with two different domain validations, one is Domain Validation(DV) and the other one is Organization Validation(OV).
Warranty/Guarantee: Now whenever we go to buy any products or services, our mind keeps on chattering about the warranty/guarantee. This is natural. Here also you will be offered the guarantee of SSL certificates. While going through this whole writing post, you will find it varies from certificate to certificate. It gives you a money-back policy.
Summary
Keep in mind that the most important reason to get an SSL for domain protection is website protection and user trust. In simple words, those who have websites are required to have an SSL certificate. Protecting your website and users is always a prime concern.
If your site is unprotected, google marks it as a sign of 'not secure'. Having inherent faith is necessary where identity is concerned but it is also crucial to have the right level of certification for the business.
Frequently Asked Questions(FAQ)
Are you the one who has these questions?
Are free SSL for safe?
Moving to the next one, not all SSL certificates are created equally. A free SSL certificate is normally the lowest security option and it mostly doesn't come with a warranty.
It's like if you want to play a safe and secure game you need to pay as simple as that.
Is TLC better than SSL?
TLC, Transport layer security, and SSL are both protocols to verify and encrypt the transfer of data on the internet world. TLC is just the more modern, secure version of SSL.
Why SSL is expensive?
Let's take the first one, just understand anything which is security related is always expensive. SSL is just like insurance. The next reason which makes it costlier is because of its features and critical policies to get.