Are you in the early stages of the startup and facing challenges to get customers or build a brand name? well, this is pretty much normal. There could be many reasons, most startups might have limited resources or probably lack somewhere in the early phase of business building.
Marketing indeed needs rigorous efforts in planning and it's a challenging task to drive business. It is all about to outreach your audience at the right time and at the right place as well. With the continuous rise of the internet, the audience can be connected easily all through digital marketing.
Here are the inevitable challenges every startup faces in the initial years.
Huge Competitions, creating something unique to uphold
Finding customers & brand building
Overwhelmed by marketing options, and not sure what works best.
Finding suitable team & partners- vendors
Limited budgets
Market researchers already figured out the reality of many startups having said that the role of digital marketing is very helpful for startups promoting services or products in comparison to traditional marketing.
45% of startups like to use social media platforms to promote awareness of their products and services.
Few more facts about startups!
– United States ranks number one in the total number of start-ups
– Bytedance is the highest-valued startup in the world.
– Almost 70% of startups begin as a home business
– only 40% of startups have become profitable so far
– 60% of entrepreneurs consider AI is the next big thing & change agent
These startups emphasize reaching their brand to potential customers more efficiently through digital media. Research is still being done for startups to use digital marketing more effectively in the coming years, even Google players have done a lot of improvements in their products keeping start-ups and small businesses in consideration.
Google for Small businesses
Digital marketing tools for small businesses
Till now, you must have got a gist idea about the importance of digital marketing services for startups.
This blog revolves around the role of digital marketing for startups covering some major aspects.
So, what if are planning to hire a digital marketing agency for your startup? It has proven to be beneficial to hire an agency for your brand promotion and make it more visible to increase sales.
Table of contents
1. How digital marketing is beneficial for startups?
2. Why should Startups look for a digital agency?
3. Things to consider picking an agency
How digital marketing is beneficial for startups?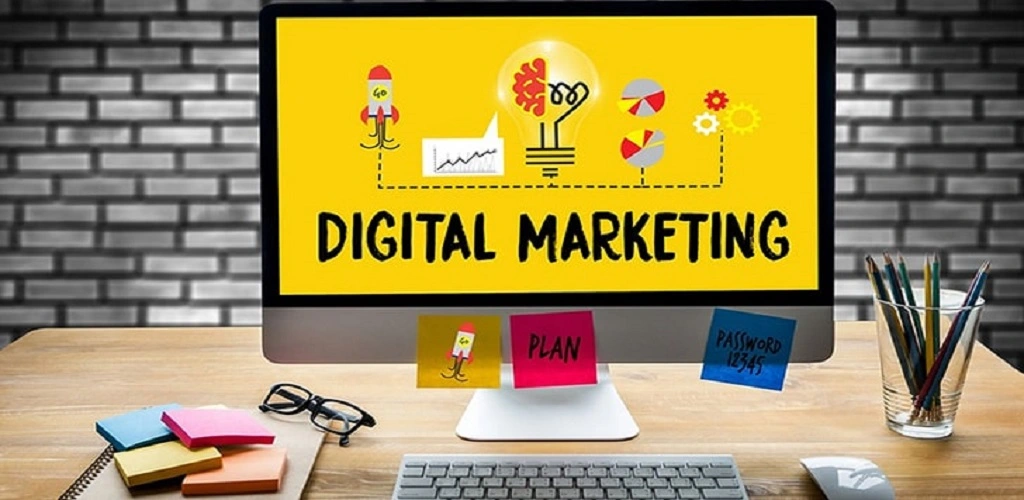 So, surely, there are different ways in which digital marketing is helpful for startups, let's discuss how-
It helps you to understand the customers better
Do you have a startup and want to know about your customers? Digital marketing helps you understand the needs of your customers and deliver them. It is a technology that influences the experience of a customer while digital marketing facilitates it.
For a startup choosing internet marketing is very advantageous for important reasons such as it is beneficial to monitor, track, and understand the buying efforts and interests of your target audience. Once you know these, you can easily attract audiences to the right products, services, costs, and promotional strategies. Hiring a digital marketing agency will assist you to promote your brand more efficiently and gain insights into the expectations of the audience.
Improves the visibility of your brand
Visibility is again important for a successful startup. Here comes a very strong role of the best digital marketing companies which circulate a high level of visibility by creating and running campaigns to suit the best for your business profile.
Just imagine you have a great business idea with perfect products to sell but if these lack visibility, all things make no sense. Digital marketing companies can make the right strategies to get the desired visibilities and can engage the audience.
The more your brand is the more visible-the audience you will have the more business you will get!
Are you looking to have strong recognition to get succeeded as a startup? Make a walk-in into the best digital marketing companies.
Enables you to target the audience well
Digital marketing helps with targeted marketing. digital marketing is very effective in targeting the customer at granular and has surpassed the conventional market strategy.
You can outreach your customers easily, who are searching for your products/services.
Your customers' demographics can be divided into highly focused groups. You can target specific individuals with your marketing endeavors to match customers' interests and demographics.
SEO agencies have the potential to create and run campaigns to attract an audience and drive sales.
SEO, PPC, social media platforms, etc. are all part of digital marketing to target the audience.
It is all search results that drive most of the traffic to a website and landing pages. It is just not possible to forget the keywords that target the marketing dynamically.
You may leave all the worries to a digital agency to streamline the moves of your startups.
It helps to build a brand & drives more sale
As already mentioned above, every startup tends to focus on building a brand and gaining repeat customers. Give the job to a digital marketing agency to boost the presence of your web. A methodical campaign potentially reaches out to the targeted audiences which make your brand goes viral.
With the improvement of your brand awareness, you will gradually have plenty of customers- this will directly affect your business growth. Digital agencies with their proven & tested methods help to boost your sales through internet marketing.
It presents your products in the market for the audience-there are different touchpoints to outreach the audience via different channels- email marketing, search engines, mobile gadget, social media, content marketing, and much more that suits your business.
Digital marketing sustains the backups to increase the marketing budget and creates multiple growths for startups.
Why should Startups look for a Digital Agency?
Does a startup need to hire a Digital agency? Probably the best answer would be Yes!
A startup must avail itself of the services of digital marketing. 90% of the startups are most likely to get failed, with about 20% gets failed in their initial years- states Techjury.
Well, a digital marketing agency is fully aware of the digital marketing trends and data about the targeted audience.
Digital agency teams' handle multiple niches & verticals of business so they don't run out of ideas & experiences.
Let's stretch out some specific reasons to look for a digital marketing agency for your startups-
A digital marketing agency helps you focus on the growth of your business. If you look forward to building a strong relationship with your strategic partners to balance the flow of your business- consider a digital agency to help you.
Every industry/brand is different from the others, and the deep analysis of such industries and brands is done by an agency to gain important expertise in marketing. A digital agency is competent enough to create different marketing strategies to drive business from the respective brands. Web content comes with a distinctive way to engage and target the audience- such a creative art a digital agency has!
Hiring an agency manages a startup's budget skilfully, and can cut down the costs of marketing expenses efficiently. In recent years, the salary of marketing directors' hiked by 18%, and at the same time, content strategists' salaries had gone up by 40%, as a result, the marketing team maintenance had been increasingly high. Hiring a marketing agency wouldn't be expensive in comparison to a marketing team of your company that needs extra training.
A digital agency is always up-to-date in terms of the latest technologies and marketing tools. These tools are used for different projects so the acquisition cost is always distributed accordingly. Are you interestingly like to succeed in your projects? Hiring a marketing agency to handle your projects successfully with the latest trends.
A digital marketing agency is always helpful to give you strategic advice to follow best practices. It gives a startup an insight to understand the business competitors and their activities. Do you want to be visible on social media pages just like your competitors? That's where an agency is surely useful in giving you an insight into the social media platforms to grow the conversion rates.
Things to Consider Choosing a Digital Marketing Agency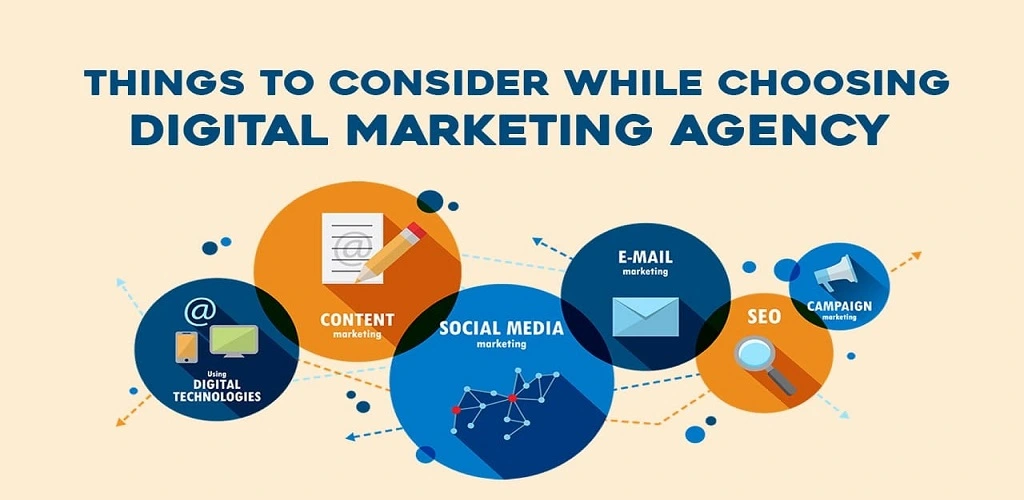 Till now, we have discussed important aspects of a digital marketing agency. Have you ever realized the things to consider picking an agency?
Well, let's help you out with some important points to picking an agency. Choosing it might be difficult and a big responsibility but with the right partnership you can be worth it 100%.
Must understand your business and industry- it is important for an agency to understand your business. Ask the marketing agency to outline the interpretation of your business, goals, and proposed strategy. It can be a fast way to check an agency's understanding of a business.
Style of working- An agency must be creative, dynamic, and a more habitual safe pair of hands. Every agency works differently for your needs depending on the type of services it provides- PPC, SEO, website development, content, designing, social, etc. You can have a joint relationship for your challenging requirements- you must believe the agency manages your account with maximum inputs. There's nothing right or wrong with doing so, it's all about your preference.
Cost- Be straightforward about the cost, and ensure to get the services done within your budget. Be transparent about the budget before you start to save your time and money. The right agency is always upfront about delivering your needs within the budget. But its suggested to be reasonable at both ends, you and the agency both are there to make money so respecting mutual worth & time value is always a great synergy.
Can an agency show ROI and results- Ask for a demonstration of what they have done for the other clients. It is your responsibility to check what you will get in return for your spending. Marketing experts suggest asking for case studies, and if needed, quizzing the agency. An agency should be able to give an estimated figure likely to be corrected or committed to minimal-level KPIs. Ask the agency to share the contact details of past or existing clients' for better feedback. This might give you more clarity about an agency you are looking to pick for the services.
Size of an agency- Many startups look for big-sized agencies, well, it just not matters what size an agency has.
In many cases, small agencies have more specialties in offering the services. They react more quickly and are collaborative, also could be able to manage things cost-effectively.
Big-sized agencies are capable to provide you with in-house services and tend to be a one-stop solution. It is a great option to consider for all the services under one roof, but at the same time, you should be ready to shell out more budgets.
In Conclusion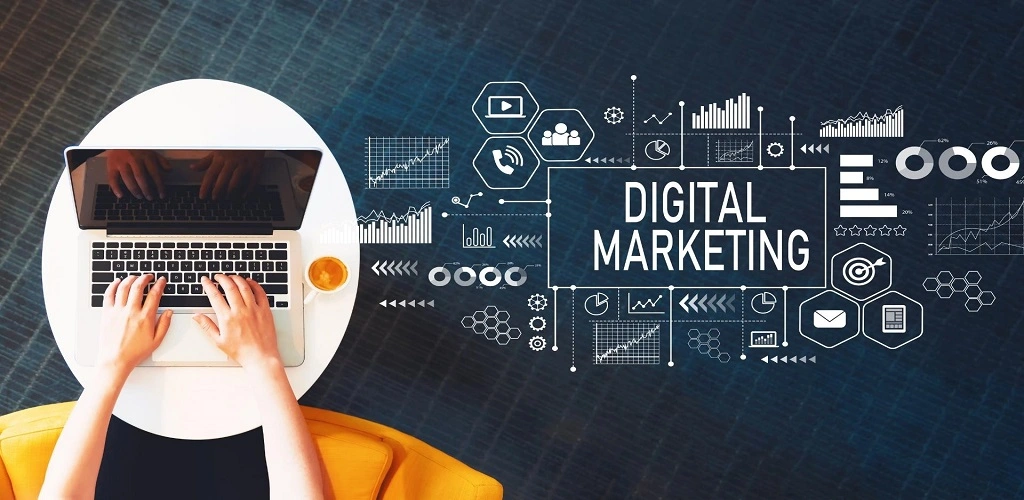 Digital marketing companies offer all the solutions for your marketing strategies, especially for startups. The process of digital marketing is gradual but the results are amazing- all possible with the best and right digital marketing agencies.

The services of digital marketing agencies can do wonders even for startups if the clarity is delegated to the agency. If you wish to explore digital marketing for your startup business, you may reach us at Digiinte digital services
Frequently Asked Questions
Criteria to look for a digital marketing agency?
–        Clarify the company's goals, a startup looking for.
–        Evaluate the agency's fee structure.
–        Ask for recent works.
–        Check the corporate blog.
–        Ensure the agency is up-to-date.
How to grow ROI with digital marketing?
Give the full brief what you expect from an agency & track your expectations with ROI metrics of digital channels ie. SEO, Paid media, content marketing, social and more.
Is digital marketing better in the coming times?
Yes! It is one of the best options to market your products/services at a minimal cost, without losing hold of your products, Over the past 10 years, it has been growing exponentially.