Hosting plan for business website
For small business website owners, picking a reliable hosting provider is vital. Here we guide to the best web hosting for small businesses and individual websites.
Shared Web Hosting it's called shared hosting for a reason because you will be sharing resources with other websites on the same server. it is one of the most popular types of hosting and its best suited for beginners it's easy to use and its affordable if you are beginner and you don't want to spend a lot, this might be a perfect choice for you.
It will have three different shared hosting plans
single shared hosting
premium shared housing
business shared housing
Single Shared Hosting – In single share housing plan you will be able to host a single website, you will get one email account with your domain name and it's a great option for beginners who are just starting out, this type of hosting is capable of handling around 10,000 monthly visits without any issues. I wouldn't recommend using it for your e-commerce websites like woo- commerce because it doesn't have enough resources compared to other plans.
 Premium Shared Hosting – With this plan you will be able to host up to 100 websites and create up to 100 business email accounts as well, with most of the hosting providers this plan comes with free SSL certificate and the main aim of this type of hosting plan to handle around 25,000-mark visits. It is a great option for everyone who needs more resources and plan to host multiple projects, this plan will have enough resources for blogs, business websites or any other similar type of website, well I wouldn't use it for ecommerce websites because again such types of websites require more resources for example in the beginning when you don't get a lot of traffic to your e- commerce website or your online store is considerably small you could use this plan
Business Shared Hosting –When your website will start loading slowly and that's an indication that you need a better plan just like a business shared housing and talking about this plan it will come with all features of a premium shared hosting, it will come with a daily backup, and it will include free CDN or in other words content delivery network that will help your website load faster.
Business shared hosting is capable of handling around 100,000 monthly visits so business shared hosting plan is a great choice for growing websites, e- commerce sites, it can handle more traffic compared to other shared hosting plans and it has more resources so for example if you would host a WordPress website you could install more plugin compared to the premium plan and your website will be around completely normal without experiencing any decrease in low time but don't forget there are limits to everything and if you will start installing a lot of plugins then you might experience low time.
Here are just a comparison & few of the features of shared hosting options.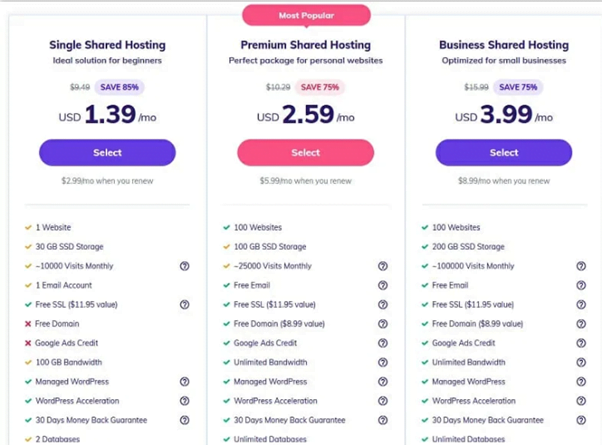 Pros
Low cost
No need to specific technical knowledge
User friendly control panel
Support form services providers
Cons
Traffic surges on the website can slow down with higher loading time or down time.
Cloud Hosting– In the shared hosting you are sharing resources, but this doesn't apply to cloud hosting, with this type of hosting you get dedicated resources, and you will not be sharing them with anyone else, this is a great option for quickly growing websites. When shared hosting is not enough anymore that's because cloud hosting offers the power and real ability of VPS with the simplicity of shared hosting.
Usually, you don't start with cloud housing especially when you are beginners because in the beginning you don't need so many resources you can start with shared hosting and once you see that your website needs an upgrade you can always move to cloud hosting at any time you need.
 In Hostinger provide 3 different cloud hosting plans
Cloud Start-up
Cloud Professional
Cloud Global
as you can see each plan has more resources than the other as well. the main aim daily backups and CDN when you move from shared hosting to cloud, I would recommend choosing cloud start-up it has way more resources than shared housing.
Check out all features & details of Hostinger Premium Quality Web Hosting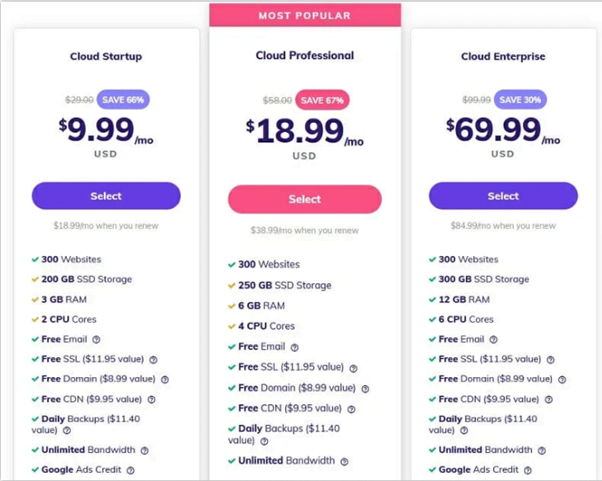 Pros
User friendly control panel
You would never feel bandwidth or down time.
Cons
Root access is not always provided
WordPress hosting – WordPress hosting is like shared housing it's a great choice for beginners especially for ones who are planning to use WordPress as their content management system, just like with shared hosting with this type of hosting you will be sharing resources with other websites, that means you will not have dedicated resources as you would have it cloud hosting or VPS. the main difference between shared and word press hosting is that WordPress hosting is optimised for WordPress that's great news for beginners because your website will run fast and smoothly.
At Hostinger we have four different plans for WordPress hosting
Single WordPress
WordPress starter
Business WordPress
WordPress Pro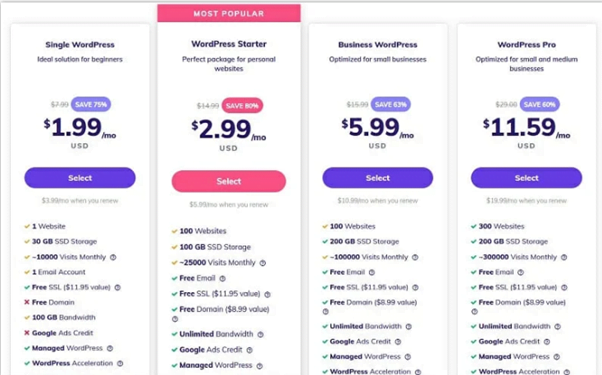 Pros
Low cost and beginner friendly
Good performance for WordPress installation
it's fully optimised and customer support has a dedicated WordPress team so if you
face any issues the team of professionals will be here 24/7.
cons
Recommended only for WordPress site.
VPS Hosting- VPS servicing or virtual private server does not like any other type of hosting. VPS is for advanced users because you will need some technical knowledge & you have full root access. In this hosting option you will be able to take full control of your server that means you can install a wide range of operating systems, projects and do much more than you could do with shared or any other hosting, with VPS hosting you will get dedicated resources just like with cloud hosting, but you will lose the simplicity.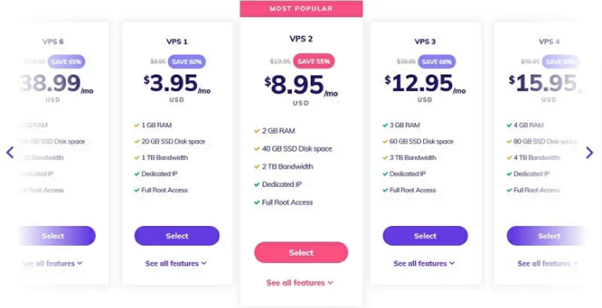 Pros
Dedicated server space
Root access to the server
Cons
More expensive than other type of hosting
Technical and server management knowledge is a must
Summary
Now you must be able to differentiate between all hosting plans and it should be much easier to decide which hosting plan you should choose. Shared and WordPress hosting for beginners. Cloud hosting is for experienced users with fast growing websites and VPS hosting for advanced users.
Just $0.99! Get a popular domain today!